Pesto Pasta Salad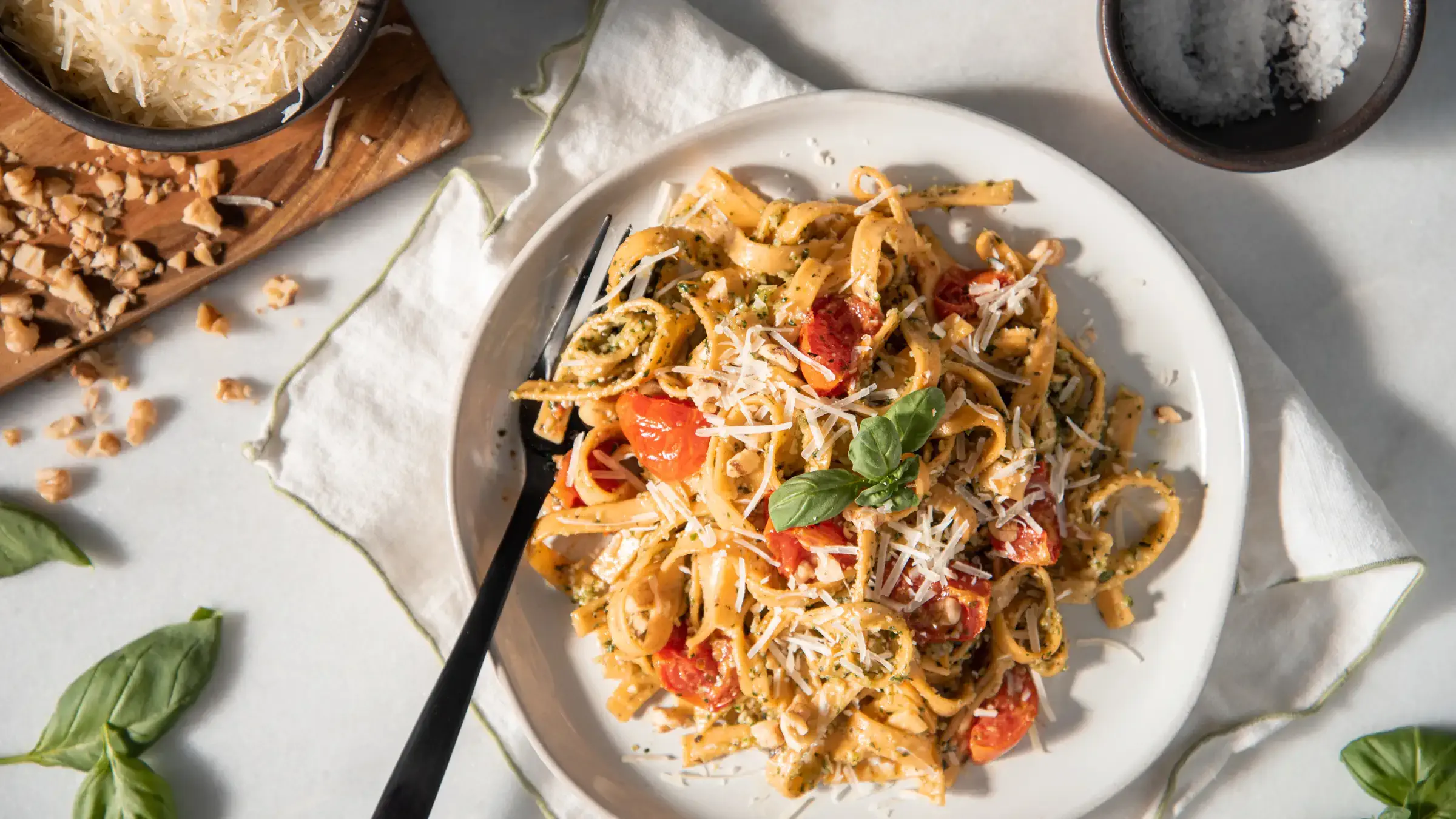 Mrs. Miller's Pesto Pasta Salad is the perfect summer picnic dish. The recipe can be served cold or heated up – it's delicious both ways! Mrs. Miller's Tomato Basil Noodles paired with your favorite pesto sauce are a popular summertime take-along that your friends will love. Serve this pesto pasta salad at your next outdoor gathering and watch it disappear!
Summer picnics beg for fresh ingredients like homegrown basil. If you can't grow your own, head to your local farmer's market and buy the best-looking bunch you can find. You'll need more than you think for a good amount of pesto. Traditional Basil Pesto is made with pine nuts, but Mrs. Miller's recipe calls for walnuts which cost a little less than pine nuts. Give them a try and let us know which you like best!
Mrs. Miller's Tomato Basil Noodles are made with simple, clean ingredients like durum wheat semolina and fresh basil. They have a beautiful red color from the addition of tomato paste during production. The noodles cook up al dente in just 15 minutes, making them perfect for a quick weeknight meal or side dish.
Whether you're serving Mrs. Miller's Pesto Pasta Salad cold or hot, it 's sure to be a hit at your next summer picnic! What's your favorite dish to take along to outdoor gatherings? Let us know in the comments below. Mrs. Miller's Homemade Noodles are available for purchase online and in select stores. Find a retailer near you!
Happy Summer Cooking!
Prep Time

10 min

Cook Time

25 min

Total Time

35 min
Ingredients:
1 Large Bunch Fresh Basil (2–3 Cups packed)
1 Cup Parmesan Cheese, shaved
1/4 Cup Chopped Walnuts
2 Cloves Fresh Garlic, chopped
1/2 – 3/4 Cups of Extra Virgin Olive Oil
Salt and Pepper to taste
Directions
2
Place Basil, Parmesan, Walnuts, Salt & Pepper into a food processor – pulse until chopped.
3
On low, drizzle Extra Virgin Olive Oil into food processor until desired consistency is reached.
4
Combine Pesto with Noodles to coat. Garnish with extra Parmesan, Walnuts, and a dollop of Pesto.
Share with friends