Tomato, Zucchini, and Noodle Casserole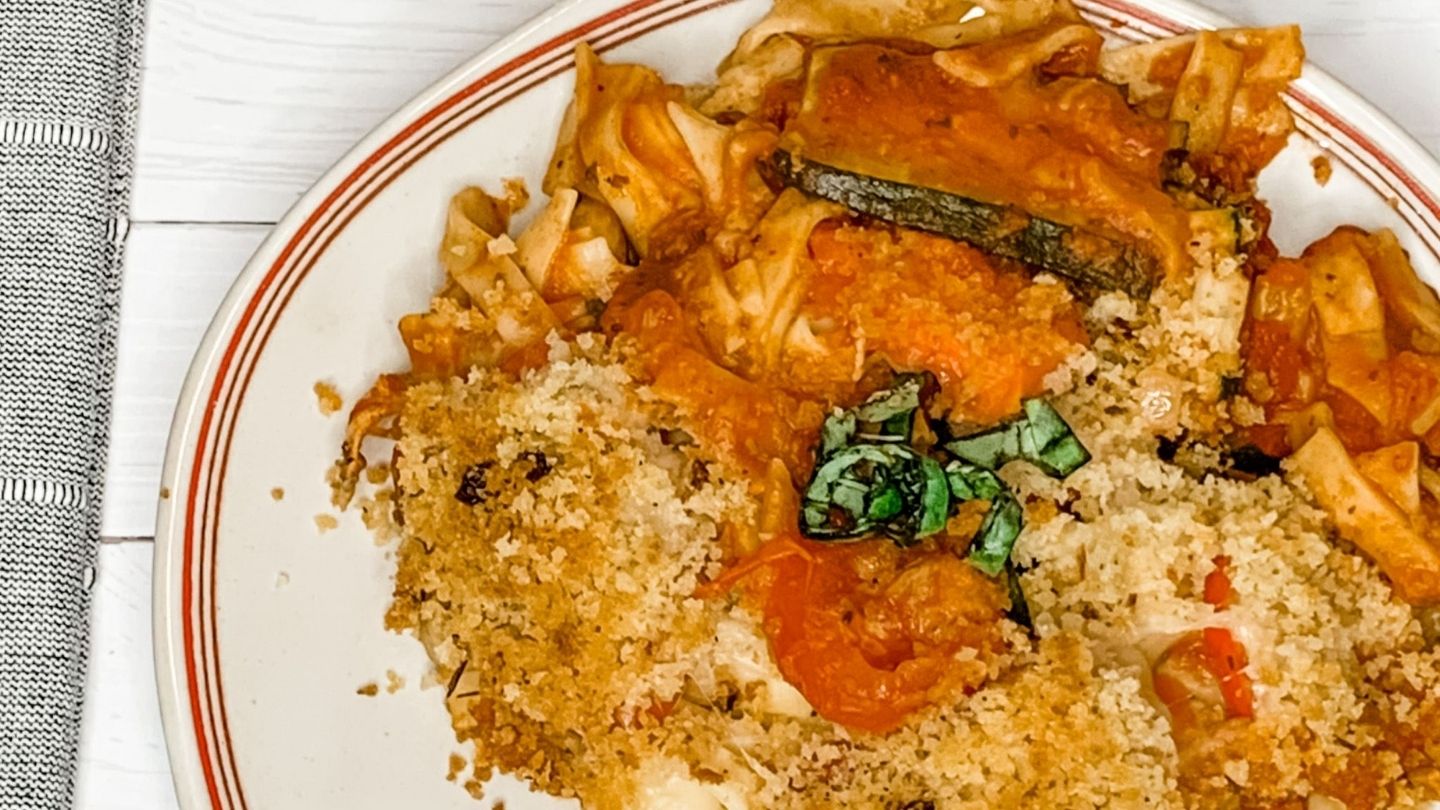 Not sure what to make with all those fresh tomatoes and zucchini you have? Our Tomato, Zucchini, and Noodle Casserole is a delicious option. Layers of fresh veggies and our Garlic Parsley Noodles are a great side dish with Italian seasoned Chicken or a main course for lunch.
Prep Time

15 min

Cook Time

45 min

Total Time

1 hr
Ingredients:
For the Casserole:
1 Jar Mrs. Miller's Chunky Vegetable Sauce
1 Medium or Large Zucchini, sliced thinly lengthwise
5 Roma Tomatoes, sliced thinly lengthwise
1 1/2 Cups Mozzarella Cheese, grated
3/4 Cups Parmesan Reggiano, grated
2 Cloves Garlic, minced
1/4 Cup Fresh Basil, chiffonade
1 teaspoon Dried Oregano
Cooking Spray
Salt and Pepper to taste
For the Topping:
1/4 Cup Unsalted Butter or EVOO
1/2 Small Onion, fine diced
1 Cup Fine Bread Crumbs
Directions
1
Par Boil Mrs. Miller's Garlic Parsley Noodles al dente.
2
Spray a 9 x 13 casserole dish then coat the bottom completely with Mrs. Miller's Chucky Vegetable Sauce.
3
Layer Zucchini, Noodles, then Tomatoes with a sprinkle of each cheese, herbs, garlic, and more sauce between layers.
4
For the Topping, melt the Butter in a small pan or heat extra virgin olive oil and sauté onions until translucent. Add the Bread Crumbs and stir until they are completely coated.
5
Spread Topping over Casserole completely. Place on a cookie sheet and bake at 375° for 45 minutes or until sides are bubbling and the top is browned.
This dish is a lot like a veggie lasagna so feel free to mix it up with your favorite veggies!
Share with friends