Enchilada Lasagna Recipe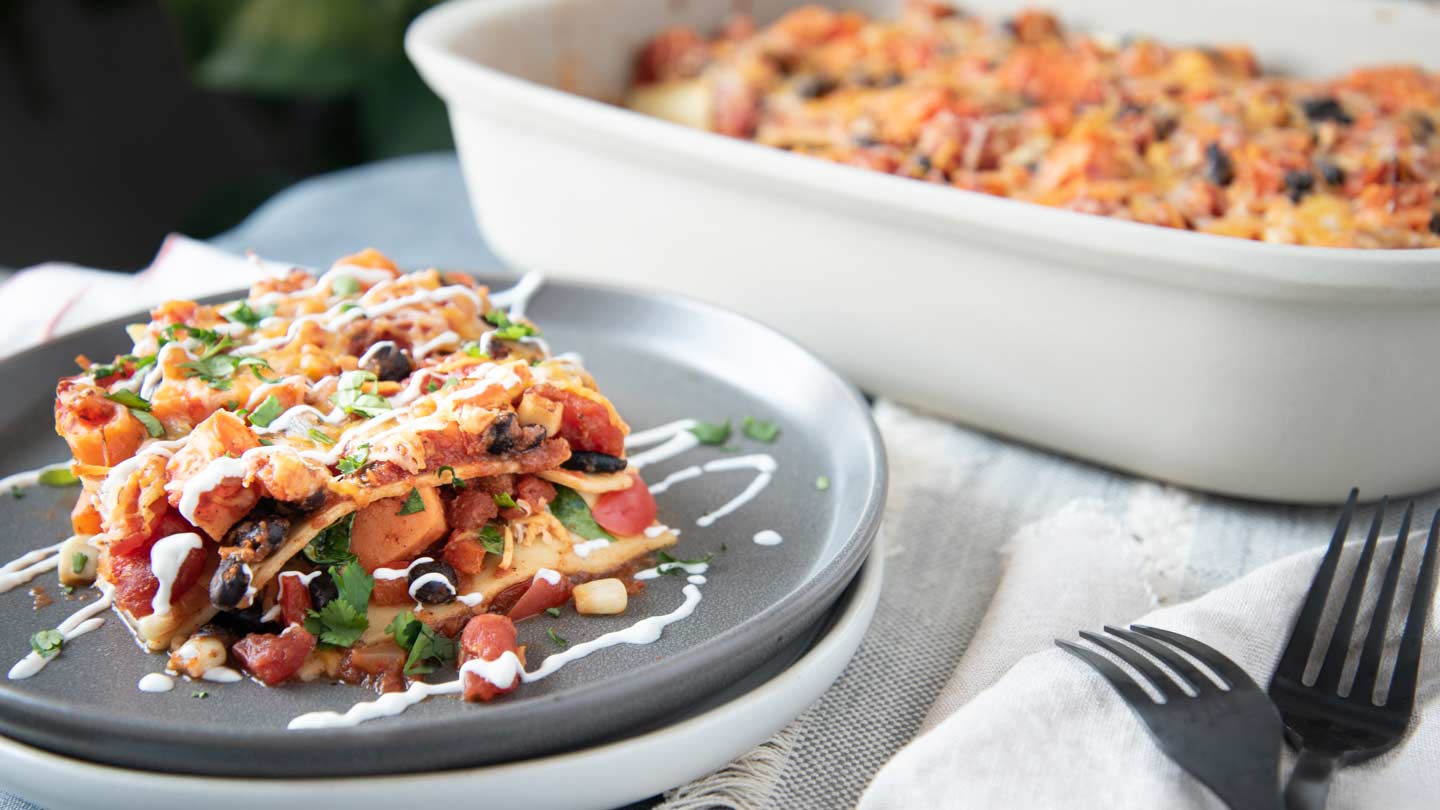 Looking for something new to bring to your next potluck or party? This year, ditch the same-old-same-old and try our delicious Enchilada Lasagna! This dish is perfect for any event, and it will please both meat-eaters and vegetarians alike. Plus, it's easy to make and doesn't require a lot of time in the kitchen. So what are you waiting for? Get started on our amazing enchilada lasagna recipe today!
What is a fusion dish?
A fusion dish is food that combines two or more cuisines. Fusion dishes are becoming increasingly popular as people become more open to trying new things. Enchilada Lasagna is a fusion dish because it combines the flavors of Mexican and Italian cuisine. This dish is perfect for potlucks and parties because it is hearty and filling and easy to make with a little prep. Plus, it can be made a day in advance so you can spend time at your party rather than cooking and checking on the food.
Mrs. Miller's Wide Egg Noodles are perfect for this dish because they cook quickly and hold up well in the sauce and can stand up to the bold flavors like black beans and spices. Plus, the Wide Egg Noodles are great for layering.
Garnish Suggestions: Extra Salsa, Scallions, Olives, Avocado or Guacamole, Queso Sauce, Hot Sauce, Cilantro, Shredded Chicken, Ground Beef, Tortilla Chips
Ingredients
1/2 Bag Mrs. Miller's Extra Wide Noodles
1 Large Sweet Potato, peeled and diced
1 15oz Can Black Beans, drained and rinsed
1 15oz Can Diced Tomatoes
1/2 Onion, chopped
1 Bell Pepper, chopped
1 tsp Chili Powder
1 tsp Garlic Powder
1 tsp Cumin
1 to 2 Jars Mrs. Miller's Salsa
2 Cups Shredded Cheddar Cheese
Salt and Pepper to taste
Method
1
Par boil Mrs. Miller's Noodles in salted water – about half the time of package instructions. Set aside.
2
Preheat your oven to 400º F. Spray a 9×13 pan with cooking spray
3
Using a large bowl, combine all ingredients with the exception of Mrs. Miller's Salsa and Cheese
4
Assemble your Lasagna: Spread Salsa on the bottom of the bottom of the pan, covering completely. Next place Mrs. Miller's Extra Wide Noodles in an even layer, then a big scoop of the Sweet Potato mixture, spread evenly. Add 1/2 Cup of Cheese then repeat until ingredients are gone or the pan is full – usually about 3 layers. Make sure cheese is the last layer!
5
Bake uncovered for 20-25 minutes or until Cheese is hot, bubbly, and slightly browned
6
Let sit for 10 minutes and serve with desired garnishes!
Pro Tip: Microwave your Sweet Potato for 8-10 minutes before dicing to make the job a lot easier!
Share with friends