Chicken, Avocado and Bacon Pasta Salad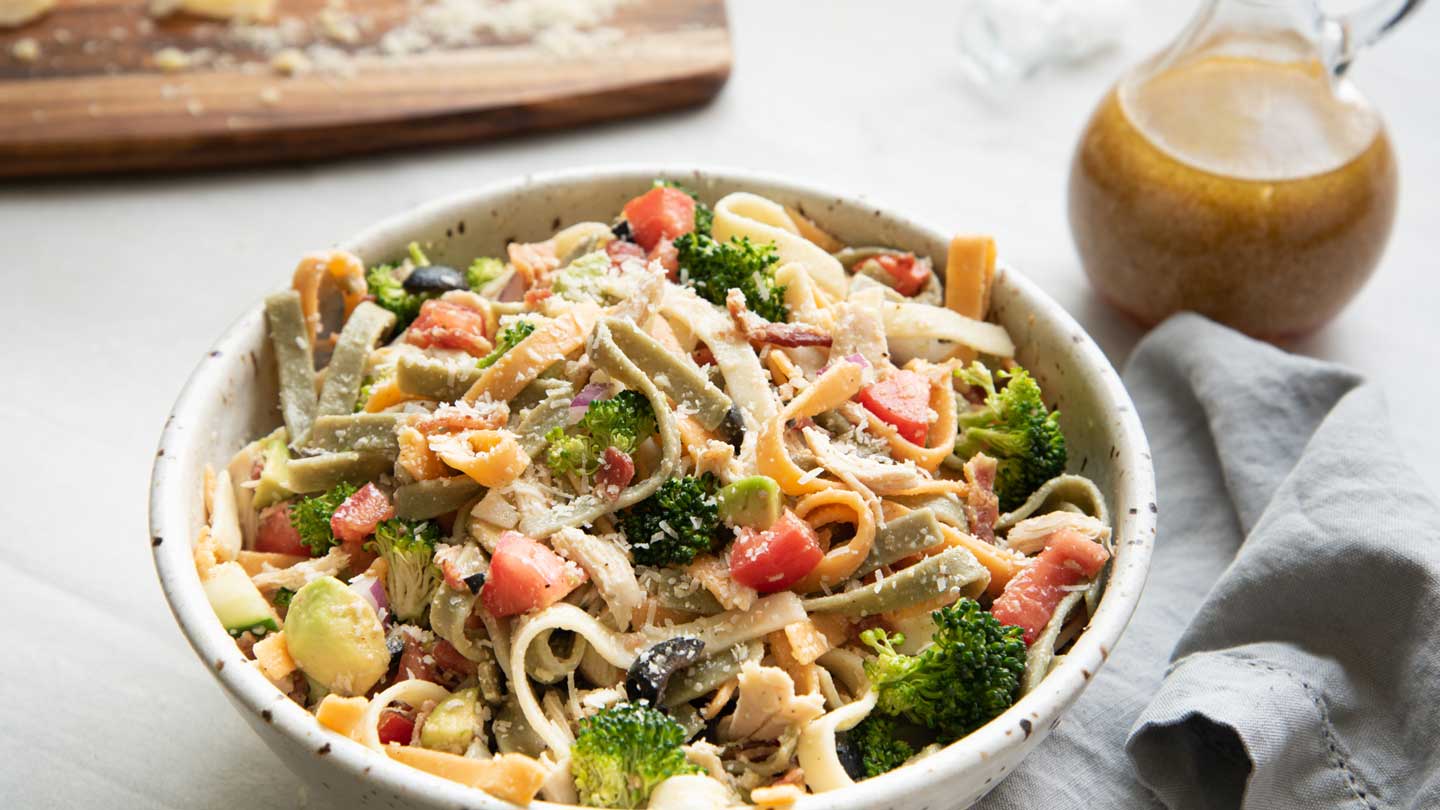 Prep Time

20 min

Cook Time

25 min

Total Time

45 min
Ingredients:
1 lb Mrs. Miller's Vegetable Mix Noodles, cooked and drained
2 Hass Avocadoes, diced
1 Head Broccoli, stems removed and chopped
4 Roma Tomatoes, seeded and diced
1 English Cucumber, seeded and diced
1/2 Red Onion, diced
4 oz Can Black Olives, sliced
1 Container Real Bacon Pieces
2 Chicken Breasts, shredded
3/4 Cup Freshly Grated Parmesan Cheese
For the Dressing:
1 TBS Dijon Mustard
3 Cloves Garlic, minced
1/4 tsp Cayenne Pepper
1 tsp Onion Powder
1 tsp Cumin
3/4 Cup Red Wine Vinegar
3/4 Cup Extra Virgin Olive Oil
2 tsp Cracked Black Pepper
1 1/2 tsp Salt
Directions
1
Combine Dressing ingredients in a mason jar or similar container, shake well
2
Combine Salad ingredients in a large bowl, mix well
3
Add the Dressing to the Salad and combine well
4
You can chill this salad over night, if needed but it is best served at room temperature. If you do choose to prep it a day ahead, reserve some dressing and toss again right before serving to friends and family. This makes a fairly large portion and will be the hit of your next picnic or gathering.
Pro Tip: To slice the time of this recipe in half, chop your veggies while the noodle are cooking and you can easily have this delicious pasta salad done in 25 minutes. Enjoy!
Share with friends