Autumn Chicken and Bacon Pasta Salad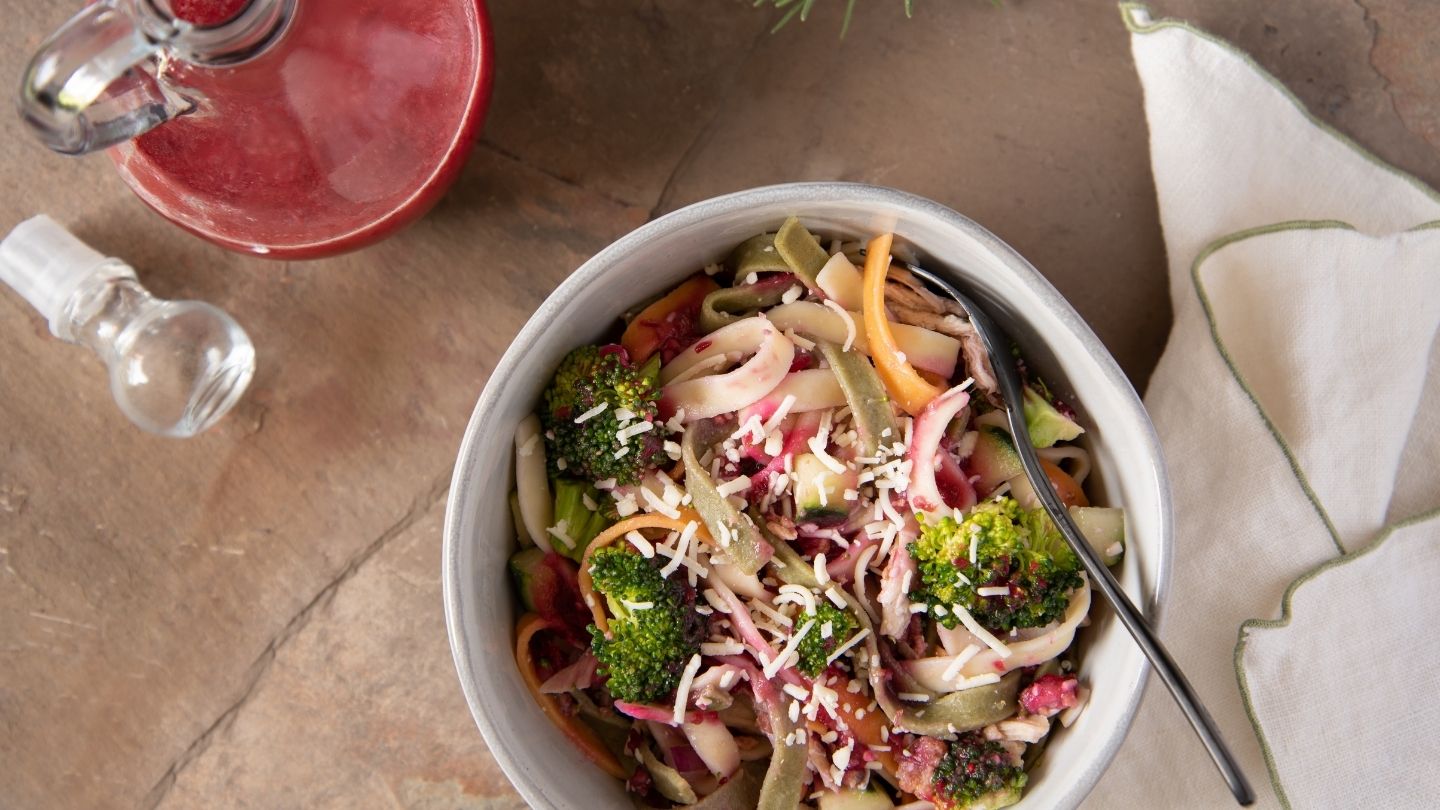 Change up your weekly menu with our Autumn Chicken and Bacon Pasta Salad! Follow the recipe step by step or mix it up and make it your own. Get creative and let your tastebuds inspire you!
Prep Time

10 min

Cook Time

35 min

Total Time

45 min
Ingredients:
For the Salad:
1 16oz pack of Mrs. Miller's Vegetable Mix Noodles, cooked and drained
2 Boneless, Skinless Chicken Breasts, cooked and shredded
1 English Cucumber, diced
2 Cups Broccoli, chopped
1/2 Medium Red Onion, diced
1 Large Granny Smith Apple, cored and diced
1/3 Cup Pomegranate Kernels + some for garnish
3/4 Cup Parmesan Reggiano Cheese, fine grated + some for garnish
1 pack Real Bacon Pieces, reserve some for garnish
Salt and Pepper to taste
For the Dressing:
1/2 Cup Homemade Cranberry Sauce
1/2 Cup Water
2 TBS Red Wine Vinegar
2 TBS Extra Virgin Olive Oil
Salt and Pepper to taste
Directions
1
Pulse all Dressing ingredients in a blender until smooth. Poor in a mason jar and store in the refrigerator for up to 1 week.
2
Combine all Salad ingredients in a large bowl and toss to mix well. Cool in the refrigerator.
3
Pour Dressing over Salad and toss to coat. Serve at room temperature.
Share with friends