Turkey Pot Pie Recipe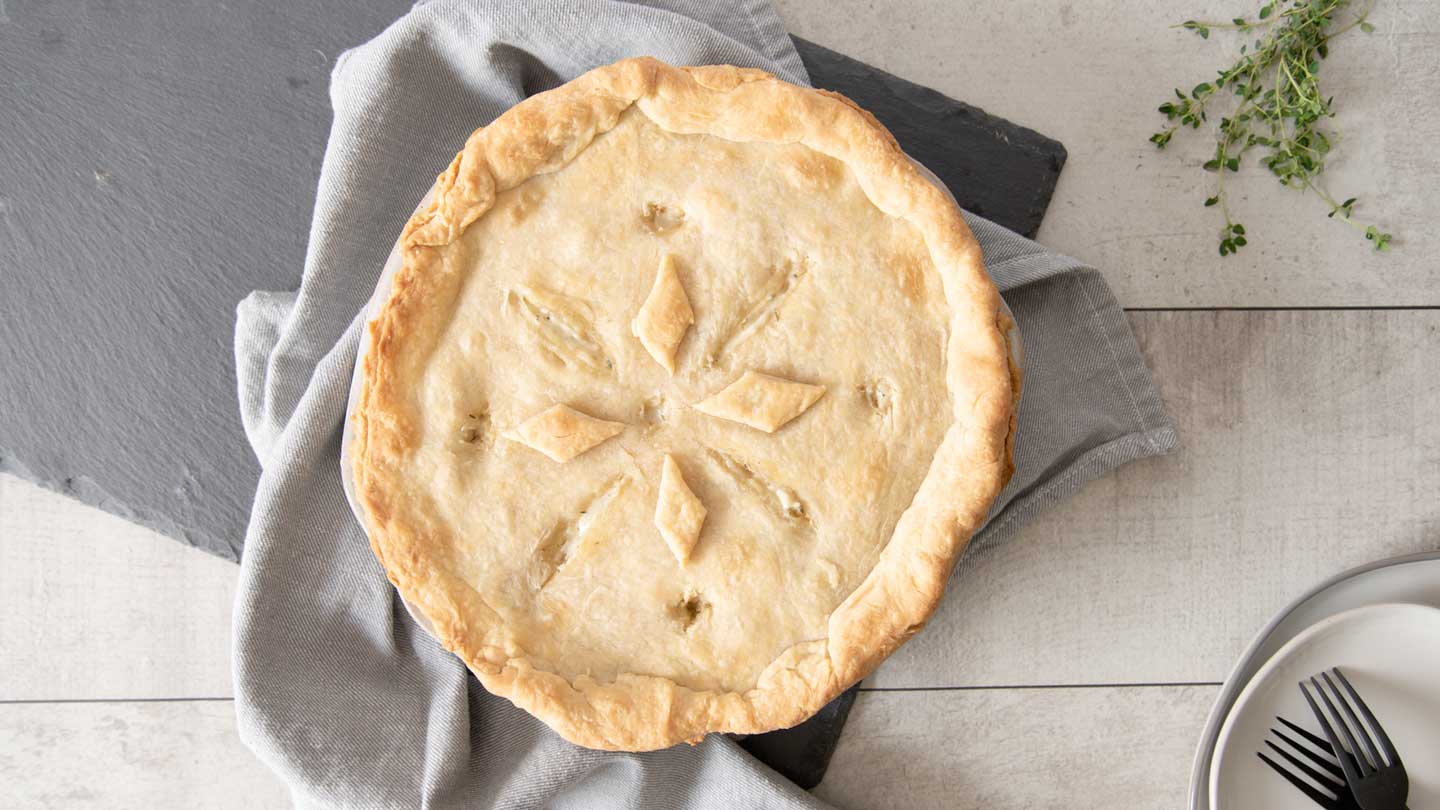 Just in time for the holidays. Our Turkey pot pie is a re-work of our popular Chicken Pot Pie recipe that is perfect for using up those deliscious Thanksgiving leftovers.
Prep Time

15 min

Cook Time

40 min

Total Time

55 min
Ingredients:
For the Crust:
For the Roux:
1/3 Cup Unsalted Butter
1/3 Cup Flour
1/3 Cup Onion, diced
1 1/2 tsp Thyme or Poultry Seasoning
1 1/2 tsp Mrs. Millers Chicken Base
1 3/4 Cups Water
1/2 Cup Milk
Salt and Pepper to taste
For the Filling:
1-2 Cups Turkey Breast, shredded
1/4 Cup Carrots, sliced thin
1/3 Cup Baby Bella Mushrooms, sliced thin
1/4 Cup Frozen Peas
1/4 Cup Frozen Corn
Salt and Pepper to taste
Directions
1
Prepare Pie Crusts in 9″ pie pan as directed
2
In a large saucepan, melt butter completely and sauté onion until translucent. Add flour and whisk vigorously until paste forms. Slowly add Mrs. Miller's Chicken Broth and Milk stirring until thickened and bubbly. Add the Thyme or Poultry Seasoning.
3
Add all Filling Ingredients to Roux, spoon into prepared Pie Crust
4
Cover Pot Pie with the 2nd uncooked Pie Crust and pinch, fork, or flute the sides and cut several slits to allow steam to escape
5
Bake at 425° for 30-40 minutes until crust is golden brown
6
Let your Pot Pie stand at least 5 minutes, cut and serve hot with microgreens tossed in a light vinaigrette on the side. Bon Appétit!
Share with friends