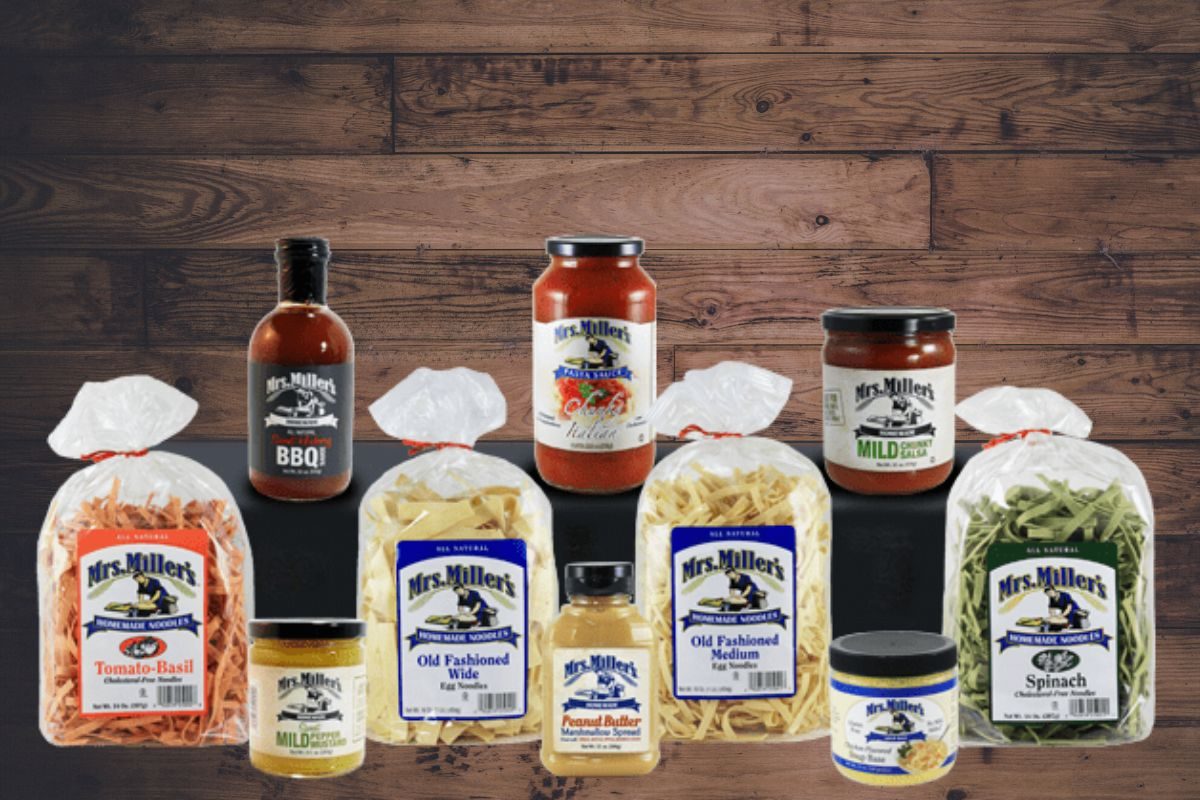 We have a strong line up of original noodle products, but did you also know that we have a growing collection of sauces and condiments? Our Deluxe Sampler pack was designed to introduce you not only to our delicious noodles, but also our sauces, soup base and condiments.
We packed a whole lot of goodness in this gift box. The Deluxe Sampler pack is perfect for sharing your love for Mrs. Miller's Homemade Noodles or trying something new form us. The gift box includes one each of the following:
16 oz bag Wide Noodles
16 oz bag Medium Noodles
14 oz bag Spinach Noodles
14 oz bag Tomato Basil Noodles
25.5 oz jar Chunky Italian Pasta Sauce
9.5 oz jar Mild Pepper Mustard
16 oz jar Mild Chunky Salsa
18 oz bottle Sweet Hickory Barbecue Sauce
12 oz jar Squeezable Peanut Butter Marshmallow Spread
12 oz jar Chicken Soup Base
Not sure what to do with all of these yummies? Make your way over to our Recipes page to get some inspiration. Noodle dishes like our Beef and Noodle Soup,  Pesto Pasta Salad, or Amish Classic – Apples and Chicken over Spinach Noodles.
The Deluxe Sampler pack also includes our signature sauces like our Southern Honey Mustard BBQ Sauce which is featured in our Meatloaf Cupcakes recipe. Or maybe you are in the mood for pasta, the Deluxe Sampler also includes our Chunky Italian Pasta Sauce that pairs perfect with the also included Wide noodles.
We were sure to not leave out our world famous Peanut Butter Marshmallow Spread, more commonly known, as Amish peanut butter. The creamy texture and sweet taste are perfect for waffles, bagels, or as a snack with some fresh apples.
There is something for everyone in the Deluxe Sampler pack, order one as a gift for a friend, for the family or even for yourself. You are sure to find a new favorite from Mrs. Miller's Homemade Noodles.