Creamy Lemon Seafood Pasta Recipe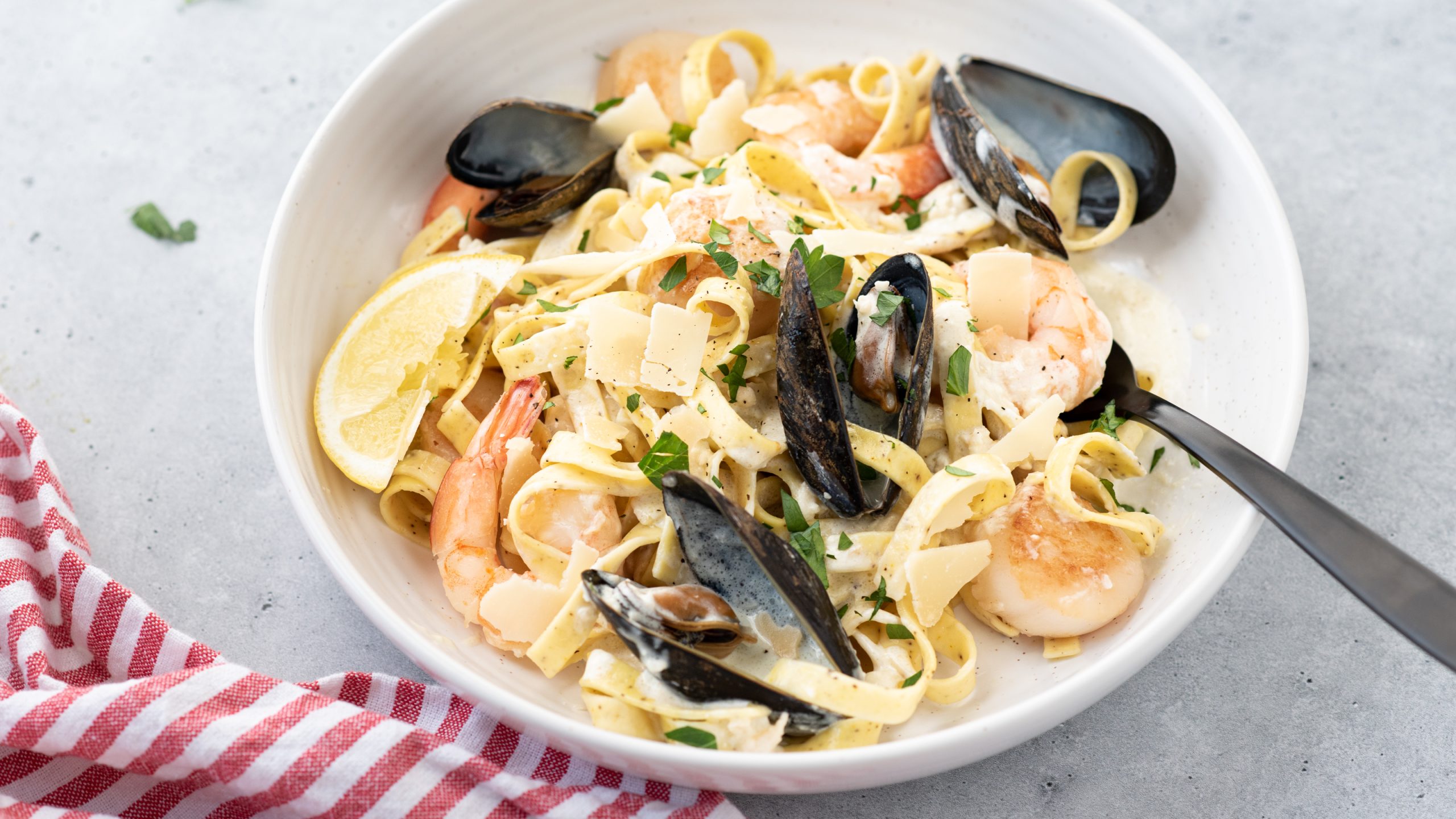 If you're looking for a delicious, fresh seafood dinner idea for Valentine's Day, look no further than Mrs. Miller's Creamy Lemon Seafood Pasta. It's a quick and easy recipe that's sure to please your special someone. And it's healthy, too! So if you're looking to impress your partner with a romantic home-cooked meal this Valentine's Day, give this recipe a try. You won't be disappointed!
Most people think of steak and potatoes for Valentine's Day but the truth is, meat and potatoes weigh you down and make you sleepy. On the other hand, this light and flavorful seafood dish is a surefire way to keep your energy levels up throughout the evening. The cream sauce is made with Greek yogurt for creaminess without the added calories from butter or heavy cream. Plus, it's full of protein and healthy Omega-3 fatty acids from the fish.
Mrs. Miller's Lemon Pepper Noodles add a bit of zing to this already delicious dish. And the combination of shrimp, scallops, and mussels makes it both hearty and healthy. To make the meal, even more, Valentine-friendly, top it off with some freshly grated Parmesan cheese and lots of fresh herbs like parsley or basil.
This Creamy Lemon Seafood Pasta is sure to be a crowd-pleaser and it's the perfect meal for two. Once you've tried it, we guarantee that it will become your go-to Valentine's Day dinner idea! Enjoy!
Prep Time

15 min

Cook Time

30 min

Total Time

45 min
Ingredients
Ingredients
1 TBS Butter
1/2 lb Scallops
1/2 lb Shrimp, peeled and deveined
1/2 lb Mussels
Salt and Pepper to taste
For The Sauce
1 TBS Butter
1/2 lb Scallops
1/2 lb Shrimp, peeled and deveined
1/2 lb Mussels
Salt and Pepper to taste
Method
1
Bring a large pot of water to boil and cook Mrs. Miller's Lemon Noodles according to package directions. Reserve 2 cups of Pasta Water.
2
Melt Butter in a medium-sized saucepan over medium-high heat. Add Scallops and cook for 2-3 minutes then add Shrimp for the last 1-2 minutes and cook until no longer pink. Set aside.
3
Add reserved Water to saucepan and bring to a boil. Add Mussels. Cover and reduce heat to simmer. Let the Mussels steam for 5 minutes. Discard the ones that didn't open. Set aside with the shrimp and scallops.
4
Melt ¼ cup Butter in the saucepan. Add Garlic, Heavy Cream, Mrs. Miller's Chicken Broth, and Cream Cheese. Stir until Cream Cheese has melted and is smooth and creamy.
5
Add Parmesan Cheese and the Juice of one Lemon and simmer until it has thickened.
6
Stir in Pasta and Seafood. Stir until heated through. Serve with fresh chopped parsley and parmesan cheese if desired.
7
Now you have a deliciously fresh, yet hearty dinner to add to your repertoire!
Share with friends