Chili Mac Recipe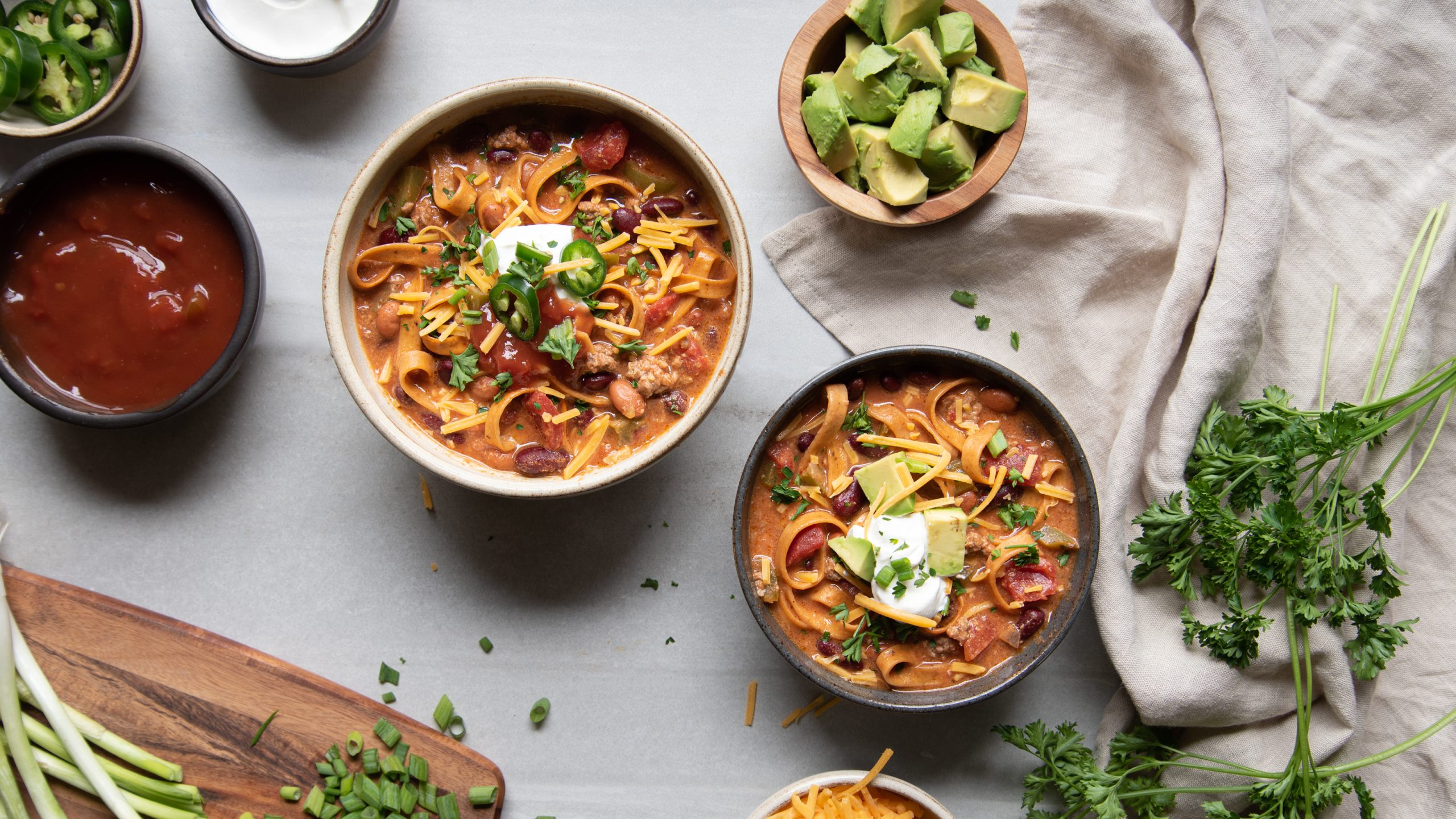 Autumn is upon us, and what better way to embrace the crisp air and falling leaves than with a hearty and warming meal? Enter our star dish: Chili Mac. This soul-satisfying creation is comfort food at its finest, blending the richness of chili with the indulgent allure of macaroni and cheese. Whether you're huddled up for a cozy evening indoors or gearing up for a game day gathering, Chili Mac is a crowd-pleaser that never disappoints.
At the heart of this culinary adventure are the exceptional Mrs. Miller's Chili-Jalapeño Noodles. These aren't your average noodles; they bring a delightful kick of jalapeño spice to the table, elevating your Chili Mac to a whole new level of flavor. Mrs. Miller's Chili-Jalapeño noodles provide a quick and easy Southwestern meal for your family.
As you take that first mouthwatering bite of your homemade Chili Mac featuring Mrs. Miller's Chili-Jalapeño Noodles, you'll know you've embarked on a culinary adventure tailor-made for autumn or game day gatherings. The warmth of chili, the creaminess of mac and cheese, and the boldness of jalapeño-infused noodles come together in perfect harmony.
So, roll up your sleeves, gather your ingredients, and let the aroma of this Chili Mac guide you to a mealtime experience that's as comforting as it is flavorful. Don't forget to share your creation with family and friends; after all, good food is meant to be shared and savored together. Happy cooking!
Prep Time

5 min

Cook Time

5 min

Total Time

10 min
Ingredients
Ingredients
1 TBS Oil
1 lb Ground beef
1 Green Bell Pepper
1 Cup Onion, finely chopped
3 Cloves Garlic, finely minced
1 Can Pinto Beans
2 Cans Kidney Beans
1 (14.5 oz) Can Diced Tomatoes
1 (16 oz) Can Tomato Sauce
1 (1.25 oz) Packet Chili Seasoning (or make your own see below)
1 1/3 Cup Whole Milk
2 Cups Cheddar Cheese, Shredded
Homemade Chili Seasoning
1 TBS Chili Powder
1 tsp Ground Cumin
1/4 tsp Cayenne Pepper
1/4 tsp Garlic Powder
1/2 tsp Onion Powder
1 tsp Salt
1/4 tsp Black Pepper
Other Topping Suggestions
Extra Cheese
Sour Cream
Green Onions
Jalapeños
Salsa
Avocado
Method
1
Cook beef in a non stick skillet over medium heat with a little bit of water until fully cooked and no pink.
2
Remove from heat and drain fat/grease.
3
Heat oil in a large nonstick pot over medium-high heat. Cook green peppers, and onion about 5 minutes until onion translucent.  Add garlic and cook for 1 more minute.
4
Add cooked meat, beans, tomatoes, tomato sauce, chili seasoning, milk, half the cheddar cheese, and noodles.*
5
Mix, cover and cook for about 10 minutes over medium heat. 
6
Then, uncover and cook for another 6-10 minutes.
7
Top off with the remaining cheddar cheese. Mix.
8
Garnish with roughly chopped fresh parsley and enjoy.
*If planning to have leftovers we recommend cooking the noodles separately and adding when serving. This way noodles can be refrigerated separately and not get soggy.
**Chili Mac Soup– Add 1-2 Cups Chicken or Beef Broth (low sodium) to thin it out into a soup consistency near the end and bring to a boil.
Share with friends