Artichoke Noodles and Sausage Recipe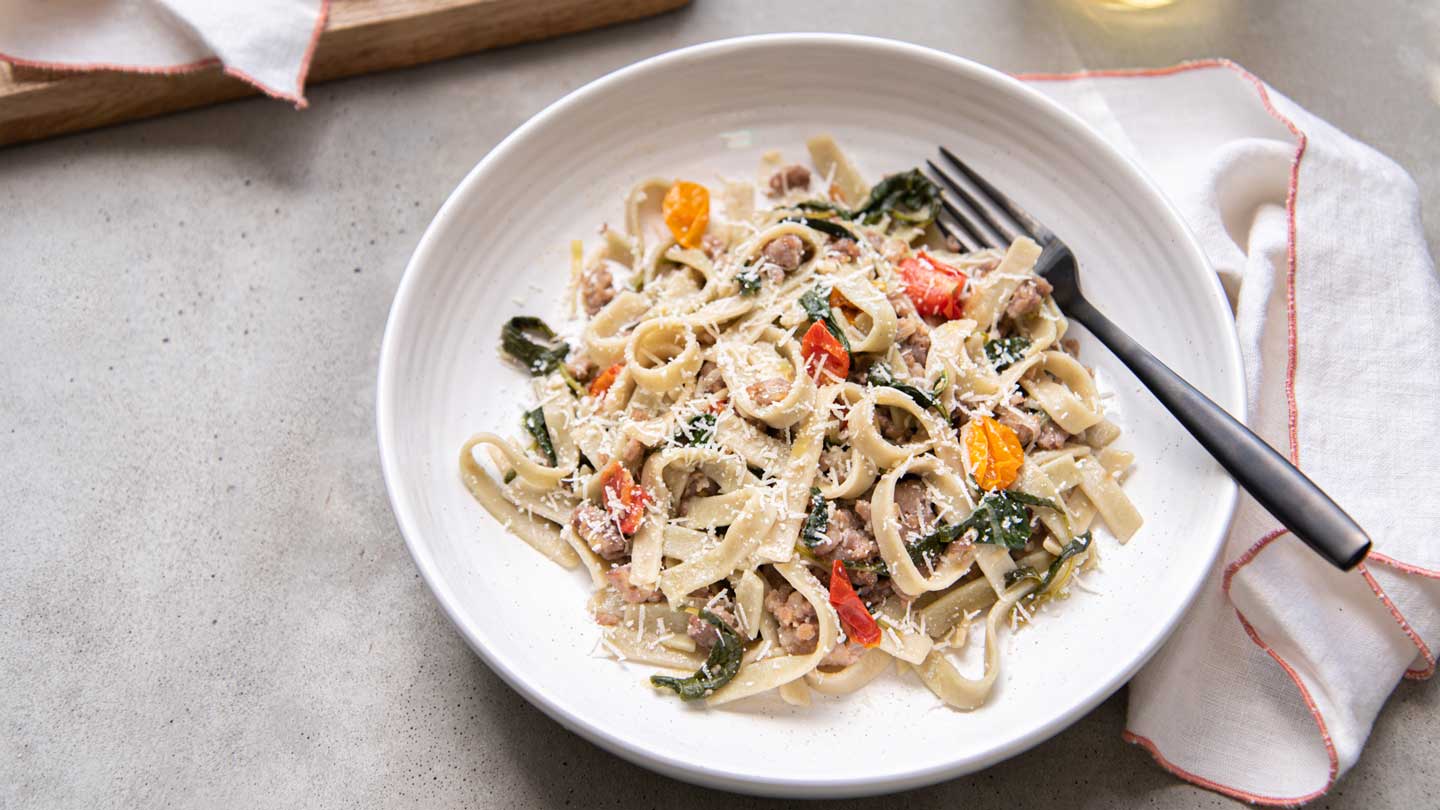 Our Artichoke Noodles and Sausage recipe is the ticket to add more greens to your dinner plate. Mrs. Miller's Homemade Noodles are here to help! Made with a delicious blend of artichoke, spinach, and garlic, these noodles are perfect for anyone who wants to up their veggie intake. Mix them with sauteed vegetables or top them with your favorite homemade sauce for a quick and easy meal. Plus, they're made with natural ingredients just for you. Add some taste and nutrition to your dinner routine today with Mrs. Miller's Homemade Noodles.
Prep Time

10 min

Cook Time

25 min

Total Time

35 min
Ingredients:
3 tables olive oil
1 leek - ends removed, cut in half lenghtwise then sliced thin
1lb. Pork sausage, casings discarded and sausage crumbled
1/2 lb baby kale
2 cloves minced garlic
1/2 lb. noodles
1/4 cup dry white wine
2/3 cup reduced sodium chicken broth
1 oz Finley grated parmesan cheese plus (1/2 cup) additional for serving
1 package Cherry tomatoes sliced in half
Directions
1
Heat oil in skillet over med/high heat- cook sausage until browned, 5-7 min.
2
Cook pasta until al dente, reserve 1 cup pasta cooking water then drain in a colander.
3
While pasta cooks add leeks, garlic and kale to sausage in skillet and sauté, stirring frequently, until just tender. Add wine, stirring and scraping up any brown bits from bottom of skillet.
4
Add chicken stock and simmer to reduce.
5
Add pasta and 1/2 cup reserved cooking water to skillet, tossing until combined. Stir in 1oz. cheese and thin with additional cooking water if desired.
6
Serve immediately, with additional cheese on the side.
Share with friends