Turkey Noodle Soup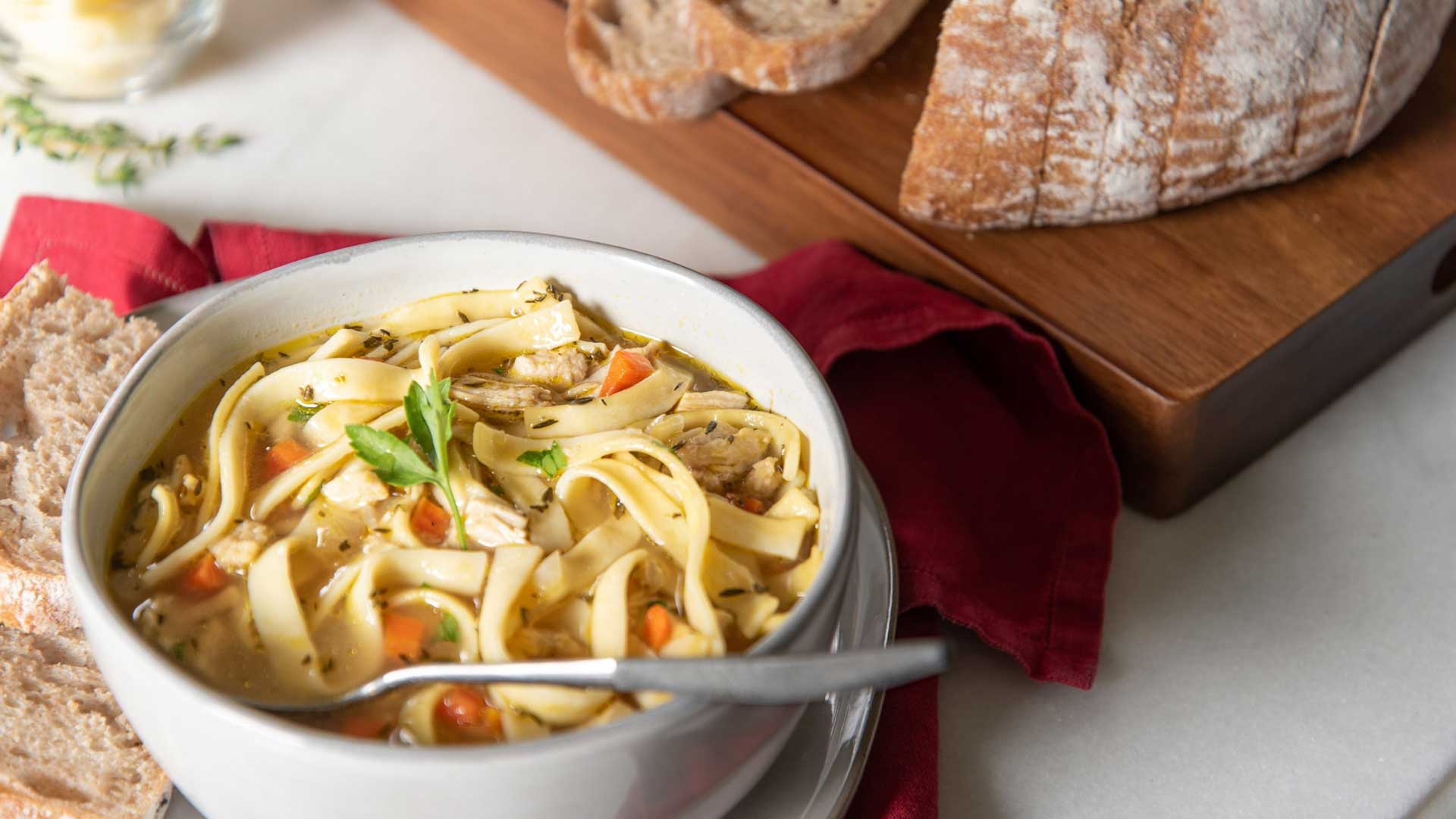 After Thanksgiving, there always seems to be turkey leftovers. If you don't want to eat turkey sandwiches for the next week, why not try making turkey noodle soup? Mrs. Miller's medium egg noodles are the perfect way to use up your leftover turkey. Like most soups, our Leftover Turkey Noodle Soup freezes well so you don't have to worry about any waste.
Can you freeze the soup with the noodles in it? Yes, you can freeze the soup with the noodles in it. However, we recommend cooking the noodles separately and adding them to the soup when you reheat it. This will prevent the noodles from getting mushy. If you don't have Mrs. Miller's egg noodles in your pantry, you can find them online in our shop or at your local grocery store. Mrs. Miller's egg noodles are made with real eggs and have a delicious, homemade taste. They're also low in fat and cholesterol, making them a healthier option than other types of noodles.
To freeze the soup first, let it cool completely. Then, transfer the soup to a freezer-safe container. We recommend using a freezer bag or plastic container with a lid. Label the container with the date and name of the soup. When you're ready to eat the soup, thaw it in the refrigerator overnight. Reheat the soup on the stove over low heat until it's warmed through. Add cooked Mrs. Miller's Egg Noodles and enjoy!
Prep Time

10 min

Cook Time

20 min

Total Time

30 min
Ingredients:
2 TBS EVOO or Butter
1 Onion, chopped
1 Carrot, peeled and chopped
1 Celery Stalk, chopped
8 Cups Turkey Broth
3 Cups Turkey, shredded
2 tsp Fresh Thyme
1 Bay Leaf
Salt and Pepper to taste
Directions
1
In a large pot, heat Extra Virgin Olive Oil over medium-high heat – add Onion, Carrots, and Celery and cook until softened.
2
Add Broth, Turkey, Thyme, and Bay Leaf. Simmer and cook until vegetables are tender.
3
Stir in Mrs. Miller's Noodles and cook until tender. Remove from heat, season to taste with salt and pepper. Serve hot.
This recipe is delicious all year long, but especially great with all that leftover Turkey from Thanksgiving.
Share with friends