Stuffed Pepper Soup Recipe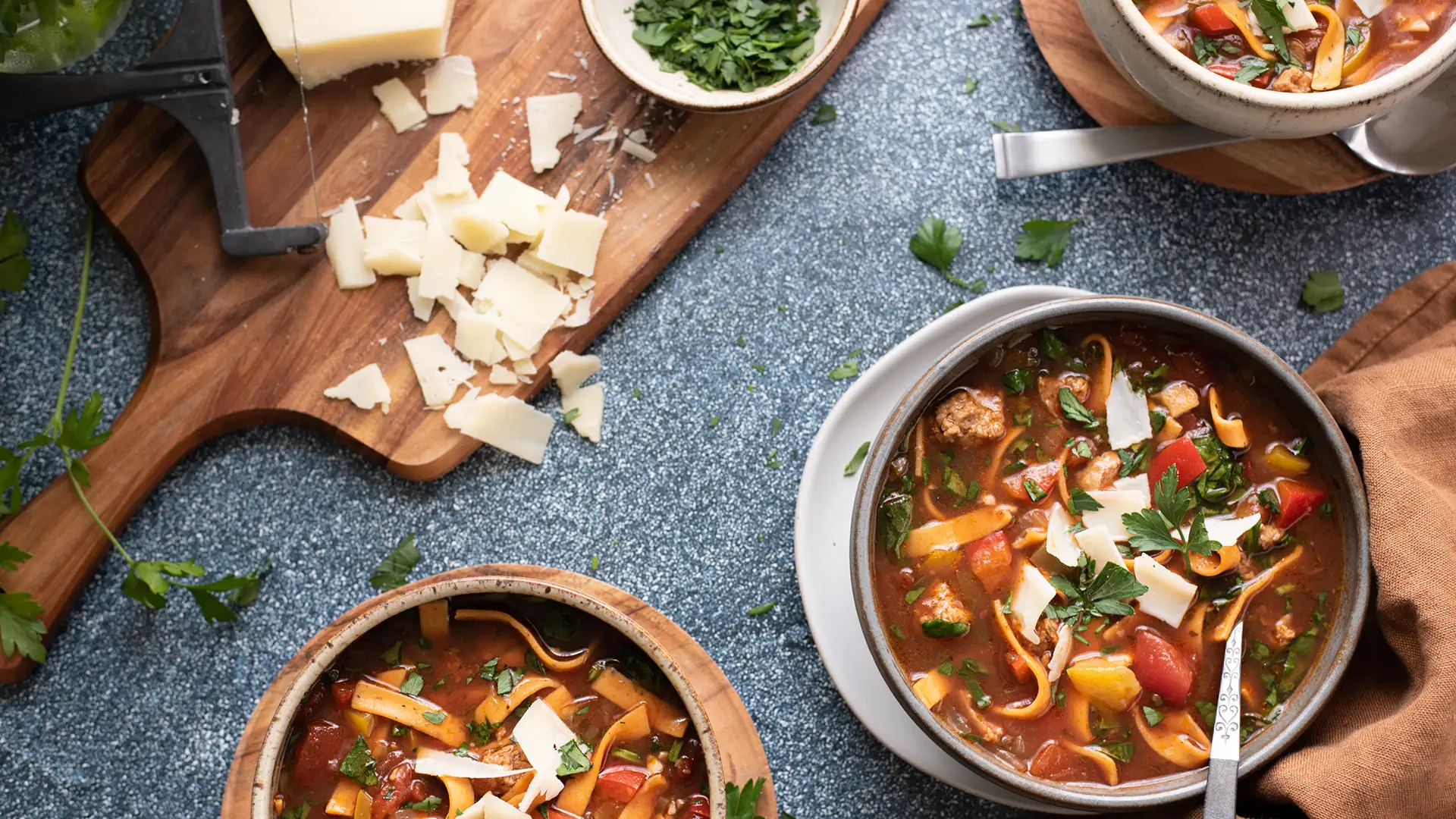 The leaves are changing, the air is getting crisper, and winter is on its way. It's officially soup season! This recipe is a great way to use up the last of your garden harvests. It's hearty, healthy, and delicious. Plus, it's easy to make and perfect for a chilly autumn day.
Mrs. Miller's Egg Noodles are the perfect addition to this soup. They add a touch of comfort and flavor that takes it over the top. In this recipe, we like to compliment the ingredients with our Tomato Basil Egg Noodles. These noodles are made with fresh, all-natural ingredients and they really add something special to the soup. We also use Italian Turkey Sausage instead of pork.
Turkey sausage is a great way to lighten up a dish without sacrificing flavor. It's leaner than other types of sausage, so it has less fat and calories. Plus, it's packed with protein and essential nutrients like iron and zinc. So, not only is it delicious, but it's also good for you!
So, if you're looking for a delicious, hearty soup to warm you up this winter, look no further than Mrs. Miller's Stuffed Pepper Soup! It's the perfect combination of flavor and comfort. And it's sure to become a new family favorite.
Prep Time

20 min

Cook Time

45 min

Total Time

1 hr 5 min
Ingredients
Ingredients
2½ TBS Mrs. Miller's Beef Base, in 4 Cups boiling water
1 lb Italian Turkey Sausage
1 Small Onion, chopped (1 cup)
1 Small Green Bell Pepper, chopped
1 Small Red Bell Pepper, chopped
1 Small Yellow Bell Pepper, chopped
4 Cloves Garlic, minced
2 (14.5 oz) Cans Petite Diced Tomatoes
1/4 cup fresh chopped basil
2 1/2 TBS Fresh Parsley, chopped
1/4 tsp Dried Oregano
1 TBS Red Pepper Flakes
3 TBS Olive Oil, divided
2 oz Fresh Spinach, chopped
1 cup water (if too thick)
Fresh Grated Parmesan Cheese, (optional)
Salt and Fresh Cracked Pepper to taste
Method
1
In a large pot, heat 1 TBS Olive Oil over medium heat and cook Sausage. Once thoroughly cooked, chop into bite sized pieces. Drain and set aside.
2
Heat remaining 2 TBS Olive Oil and cook Onions and Peppers for about 5 minutes, then add Garlic and saute 30 seconds longer. Pour in Diced Tomatoes, Mrs. Miller's Pasta Sauce, Beef Broth, all remaining Spices and cooked Meat. Season to taste with Salt and Pepper.
3
Bring to a light boil, then reduce heat to low, cover and simmer, stirring occasionally, 30 minutes.
4
While the Soup simmers, prepare Mrs. Miller's Tomato Basil Noodles according to package instructions. When the Soup is done simmering, stir desired amount of cooked Noodles into the Soup.
5
Serve warm topped with optional Parmesan Cheese and garnish with fresh Parsley.
Share with friends