Spring Veggie Stir-Fry Recipe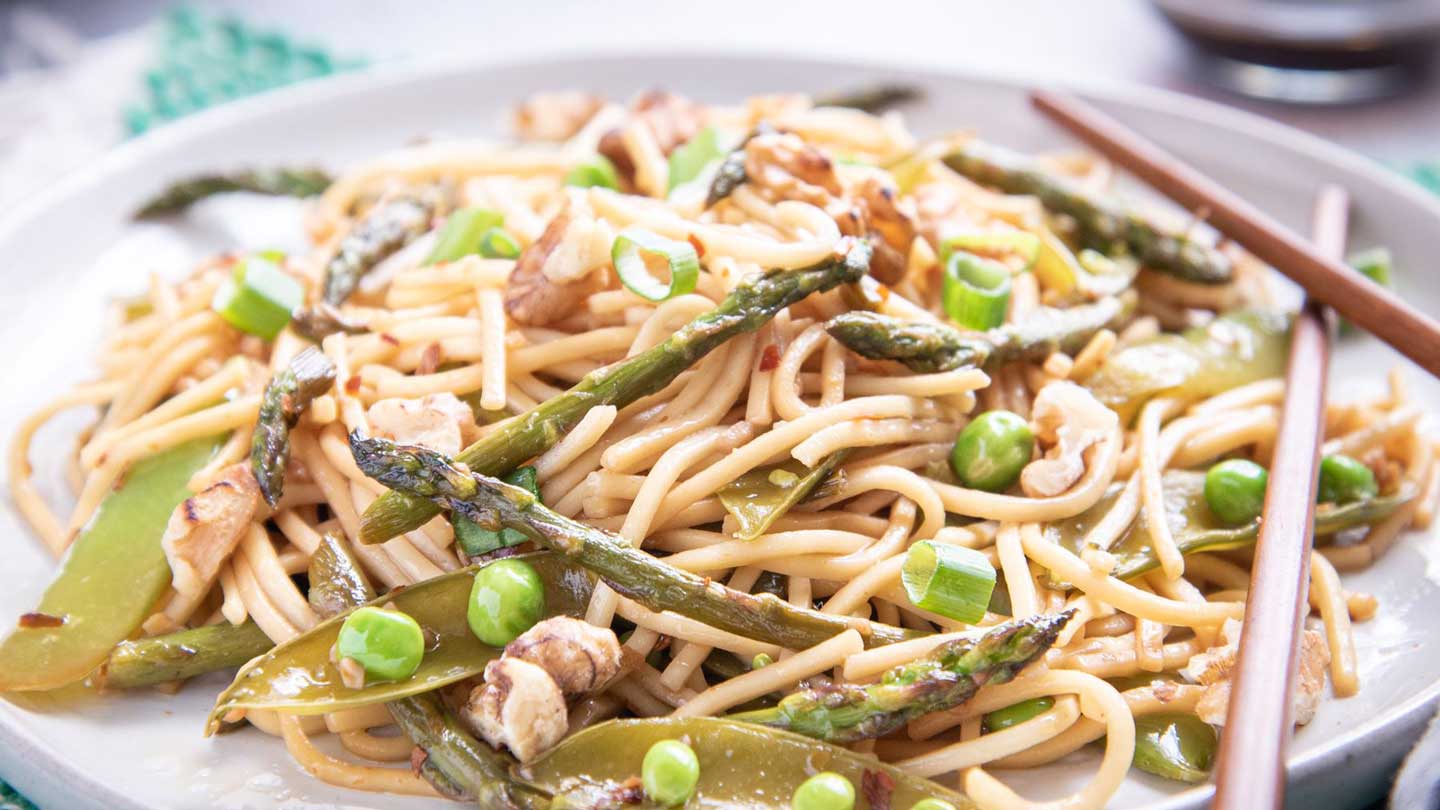 With the arrival of springtime, we love incorporating fresh and vibrant flavors into our meals. This week's recipe is Spring Veggie Stir-Fry, a delicious and healthy dish that is perfect for warmer weather. The mix of colorful vegetables and heart-healthy walnuts makes this a great meal for the whole family. And we love using Amish Egg Noodles in lieu of rice-based noodles for an extra layer of nutrition. So give this recipe a try and enjoy the flavors of spring!
What does it mean to stir-fry?
Stir-frying is a cooking technique that originated in China in which ingredients are cooked in a small amount of oil over high heat. The food is constantly stirred during the cooking process, hence the name ``stir-fry.`` This method of cooking results in food that is evenly cooked and full of flavor. Stir-frying is a great way to cook vegetables because they retain their color, texture, and nutrients.
Stir-frying is versatile because you can add any type of protein, vegetable, or grain to the dish. In this recipe, we've used Mrs. Miller's Fine Amish Egg Noodles, but feel free to use whatever you have on hand. Angel Hair, Medium, and even Kluski are all great options. The key is to cook the noodles ahead of time so they're not overcooked when everything is added to the pan.
Stir-fries are also great weeknight meals because they cook up quickly. In this recipe, the longest-cooking vegetables, like the onions and asparagus, are added first. Then the faster-cooking veggies, like the snow peas and aromatics in the sauce, are added later. This ensures that everything is cooked through but still crisp and full of flavor.
If you're looking for a delicious and healthy weeknight meal, give this Spring Veggie Stir-Fry a try. The mix of fresh vegetables, Amish Egg Noodles, and heart-healthy walnuts makes it a great dish for the whole family. Enjoy!
Prep Time

20 min

Cook Time

10 min

Total Time

30 min
Ingredients
1/2 Bag of Mrs. Miller's Fine Noodles
1 Onion, chopped
1 lb Asparagus, ends snapped and cut on the bias into 1" pieces
1/2 lb Sugar Snap Peas, halved
1/2 Cup Walnuts, chopped
1 TBS Dark Sesame Oil
Salt and Pepper to taste
For The Sauce
3 TBS Dark Sesame Oil
2 ½ TBS Apple Cider Vinegar
2 TBS Soy Sauce
1 ½ TBS Fresh Garlic, chopped
1 ½ TBS Fresh Ginger, peeled and chopped
½ tsp Crushed Red Pepper
Method
1
Cook Mrs. Miller's Fine Noodles according to package instructions
2
Vigorously whisk together Sauce ingredients and set aside
3
Heat a large non-stick skillet or wok to medium and toast the Walnuts just until fragrant. Remove and set aside.
4
Using the same skillet, heat to high and add Dark Sesame Oil and cook the Onion and Asparagus 1-3 minutes then add the Sugar Snap Peas and Sauce and cook 1-2 more minutes.
5
Reduce heat and add Mrs. Miller's Noodles stirring to coat completely with Sauce.
6
Serve piping hot garnished with toasted Walnuts.
Share with friends