Our Spring Veggie Pasta Recipe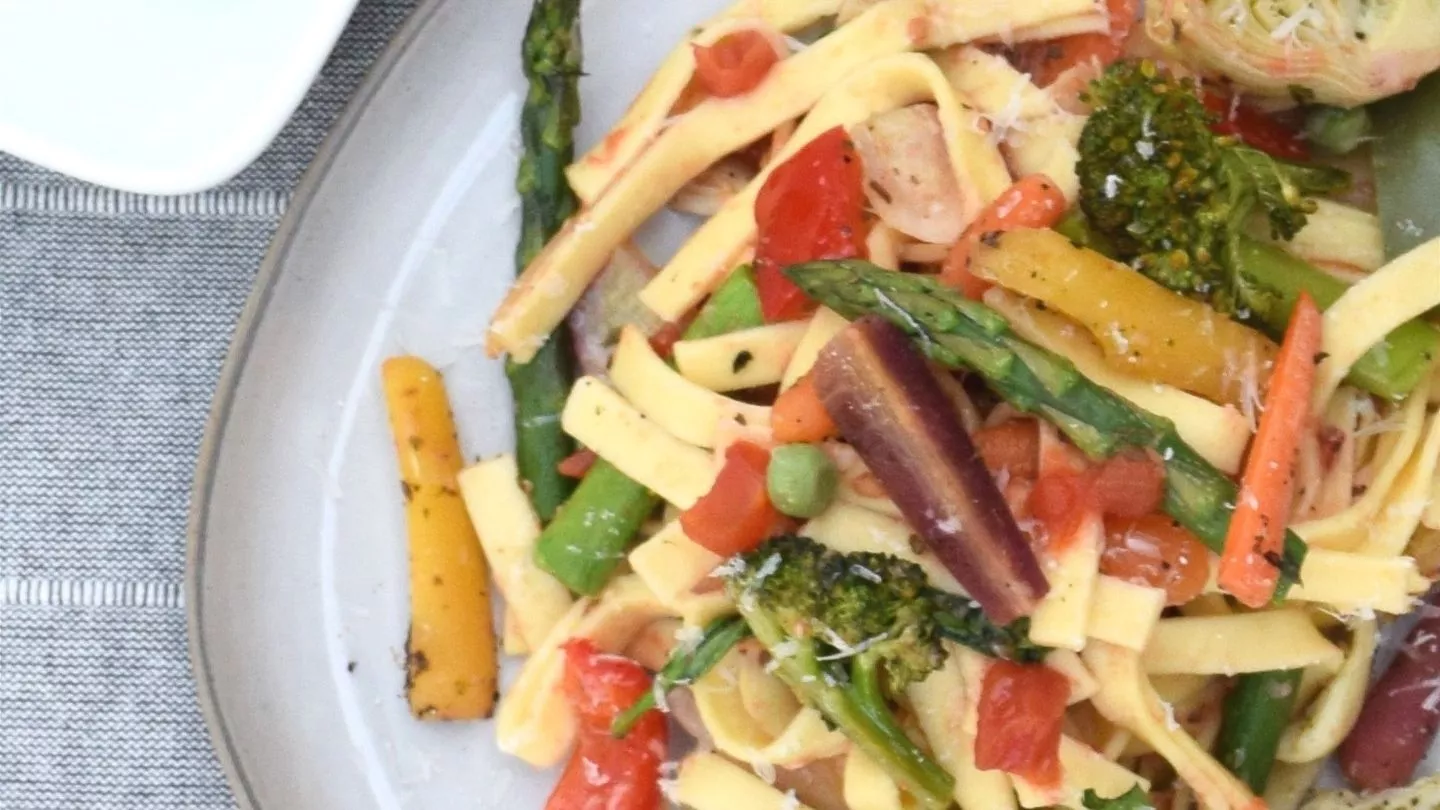 Serve our spring veggie pasta piping hot with extra cheese on the side. This is our favorite oh, so versatile Pasta dish. In the summer we use all the fresh Tomatoes and Herbs from our garden. What veggies will you put in your bright and beautiful Spring Veggie Pasta?
Prep Time

20 min

Cook Time

30 min

Total Time

50 min
Ingredients:
For the Veggies:
1–2 Small Onions, large diced
1 Bell Pepper, large diced (we used 1/2 red and 1/2 green)
1 Cup Broccoli, chopped
3/4 Cup Baby Carrots, sliced or whole if small
1 Cup Asparagus, chopped
4–5 Artichoke Hearts in Brine, quartered
1 Handful Spinach
4–5 Cloves Garlic, smashed
1/3 Cup Peas
5 Baby Bellas, sliced
1/4 Cup EVOO
Salt and Pepper to taste
Pasta & Sauce:
1 15oz Can of Diced or Petit Diced Tomatoes
1/4 Cup Pasta Water
1/4 Cup Pecorino Romano Cheese, grated
1/2 TSP Each Dried Basil, Parsley, Oregano
Salt and Pepper to Taste
Directions
1
Cook Mrs. Miller's Noodles according to package instructions. Drain and reserve a 1/4 cup or more of the Pasta Water.
2
Place all of the "hard" Veggies on a sheet pan (everything except Asparagus, Artichokes, Spinach, and Peas). Drizzle EVOO, add Salt and Pepper to taste, then toss with your hands to coat. Bake in a 350º oven for 15 minutes. Add remaining Veggies and cook 7-10 minutes more.
3
In a large skillet, place Mrs. Miller's Noodles, all of the contents from the roasted Veggies, including any juices, the canned Tomatoes, and Herbs in the pan. Toss to combine. If the pasta seems dry, add Pasta Water. Heat through and add the Pecorino, Salt, and Pepper to coat again.
Share with friends