Simple Pork Ramen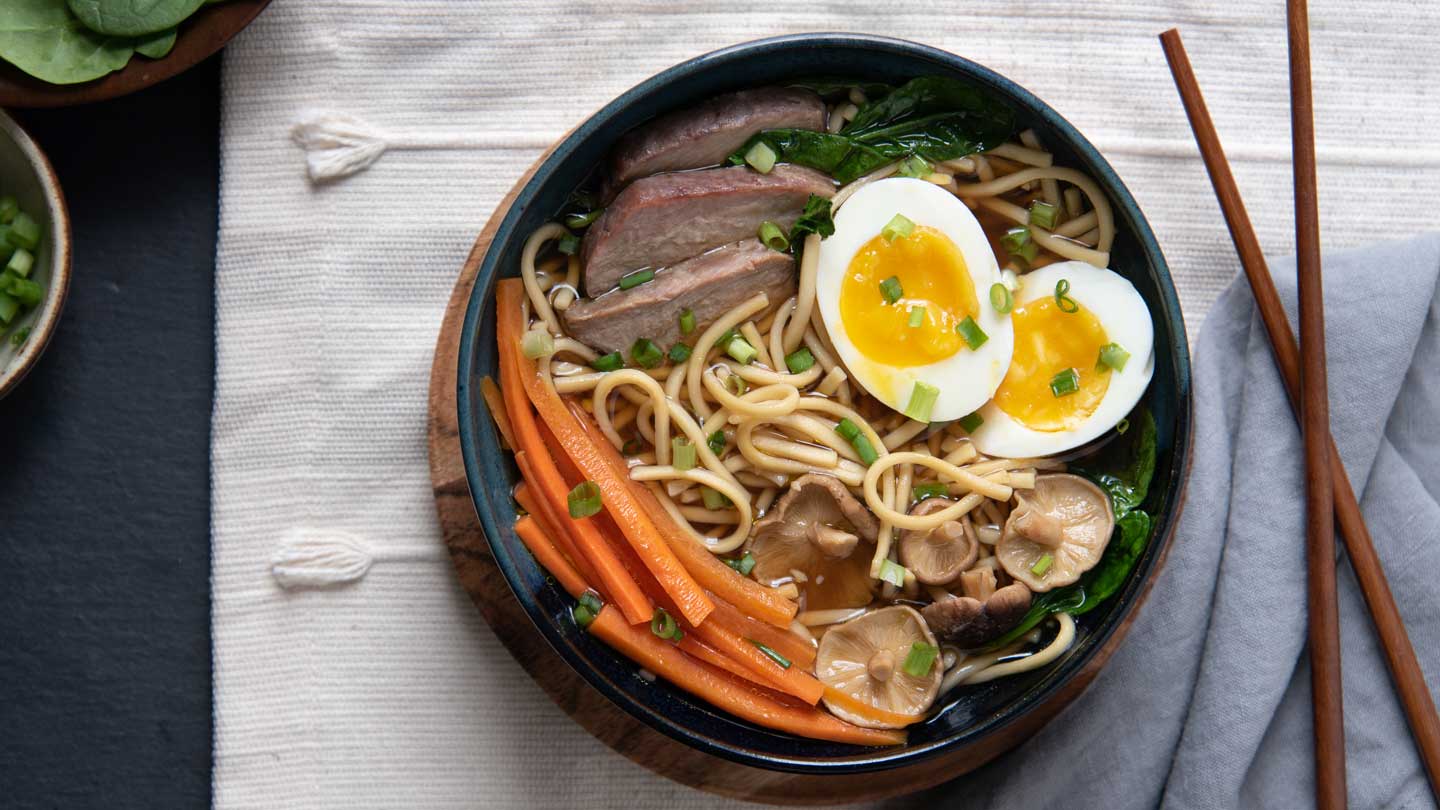 Pork Ramen is a traditional Asian dish that consists of ramen noodles in pork broth with slices of slow-roasted pork, scallions, and any other additions that you desire. Pork ramen can also be served without meat; it would then be called shoyu ramen.
We make our Simple Pork Ramen with either our Fine Egg Noodles or our Angel Hair Egg Noodles. Who knew Amish Egg Noodles could be so tasty in a classic Chinese dish? Pork Ramen is a delicious and filling meal that we think you will enjoy not only during Chinese New Year, but all year long. And this is nothing like the packaged ramen that helped you survive your college years!
Prep Time

10 min

Cook Time

25 min

Total Time

35 min
Ingredients:
1/2 Bag of Mrs. Miller's Fine Noodles
4oz Pork Tenderloin, fully cooked and sliced thin
2 tsp Sesame Oil
2 tsp Fresh Ginger, minced
1 TBS Fresh Garlic, minced
3 TBS Low Sodium Soy Sauce
2 TBS Mirin or Dry Sherry Cooking Wine
3 level tsp Mrs. Miller's Chicken Soup Powder
4 Cups Boiling Water
Optional Ingredients
1oz Shiitake Mushrooms
1 Cup Baby Spinach
1 Cup Baby Bok Choy
1 Large Carrot, pealed and sliced into thin 1/4" x 3" pieces
2 Large Eggs, soft boiled (6-8 minutes)
1/2 Cup Scallions, sliced
Salt and Pepper to taste
Directions
1
Heat Sesame Oil in a large pot over medium heat, until shimmering. Add Garlic and Ginger, and cook for a 1 minute until softened. Add the Soy Sauce and Mirin, stir to combine. Cook for another minute.
2
Mix Mrs. Miller's Chicken Powder with 4 Cups of boiling Water and add to mixture, and bring back to a boil.
3
Remove lid, and let simmer uncovered for 5 minutes. Add the Shitake Mushrooms, Carrots, and Mrs. Miller's Fine Noodles.
4
Simmer gently for 10 minutes. Season with Salt and Pepper to taste.
5
Add Baby Spinach or Baby Bok Choy just before serving.
6
Assemble the ramen bowls: Ladle Noodles, Broth, Mushrooms, Carrots, and Spinach. Add the sliced Egg, heated Pork slices, and Scallions on top.
Pro Tip: Ramen is a versatile dish your whole family can enjoy. Use tofu instead of pork, any sort of mushrooms if you can't find Shitake, hard boil the eggs, even add bell peppers or onion, if you prefer.
Share with friends