Salmon Puttanesca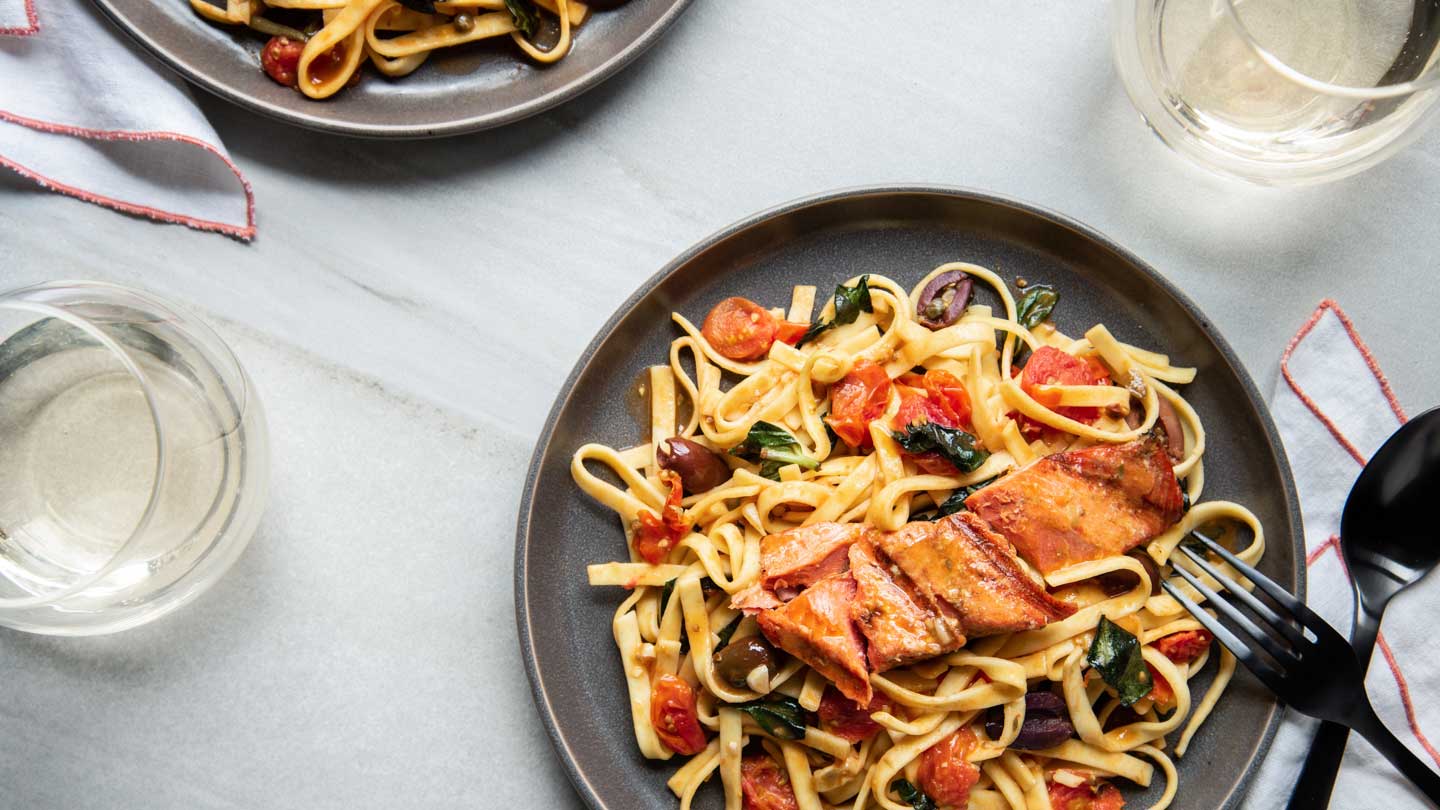 The fresh flavors of a Puttanesca sauce are sure to brighten up even the coldest of winter days and when you pair it with heart-healthy salmon and Mrs. Miller's Noodles - you've got a winning combination. And even though ``Puttanesca`` sounds fancy, it's not as difficult to prepare as one may think. Enjoy our Salmon Puttanesca Recipe
What is Puttanesca?
Puttanesca sauce is an oil-based sauce that comes from the Italian region of Campania. It's typically made by sauteing garlic, tomato, anchovy fillets (optional), and capers before adding kalamata olives and crushed red pepper flakes. Mrs. Miller's Noodles work great with this dish because they soak up the flavors of the sauce and don't get soggy as other kinds of pasta may do.
Why Salmon?
Salmon is often regarded for its heart-healthy properties since it's loaded with vitamin D, omega-3 fatty acids, and is a good source of protein. Also, Mrs. Miller's Noodles are cholesterol-free so when you combine them with salmon you can feel better about indulging in this flavorful dish all winter long!
Ingredients:
For the Salmon
4 6oz Salmon Fillets, 1 1/4 inch thick
2 TBS Extra Virgin Olive Oil
Salt and Pepper to taste
For the Sauce
2 TBS Extra Virgin Olive Oil
2 Cloves Garlic, rough chopped
½ tsp Crushed Red Pepper Flakes
1 Pint Grape Tomatoes
¼ Cup Kalamata Olives, pitted + sliced in half lengthwise
1 TBS Capers, rinsed and coarse chopped
¼ Cup Fresh Basil, chiffonade
Salt and Pepper to taste
Directions
2
In a large skillet, heat 2 TBS Extra Virgin Olive Oil and season the Salmon with Salt and Pepper. Cook the Salmon on medium-high heat until, without moving, skin side down until golden crisp (about 4 minutes). Reduce heat to medium and flip Salmon Filets and cook to your desired temperature. Set aside.
3
Using the same pan, reduce heat to medium low. Cook Garlic and Crushed Red Pepper Flakes in 2 TBS Extra Virgin Olive Oil until the Garlic is translucent being careful not to burn. Add Tomatoes and cook until just softened, 2 to 3 minutes. Add 1 Cup of Reserved Pasta Water, bring to a boil, and gently crush the Tomatoes
4
Add the Mrs. Miller's Noodles, Kalamata Olives, and Capers, combine and toss until the liquid is slightly absorbed, about 2 minutes. If the sauce seems dry, add more Pasta Water. Lastly, sprinkle in the basil, reserving some for garnish.
Share with friends