Pork Lomein Recipe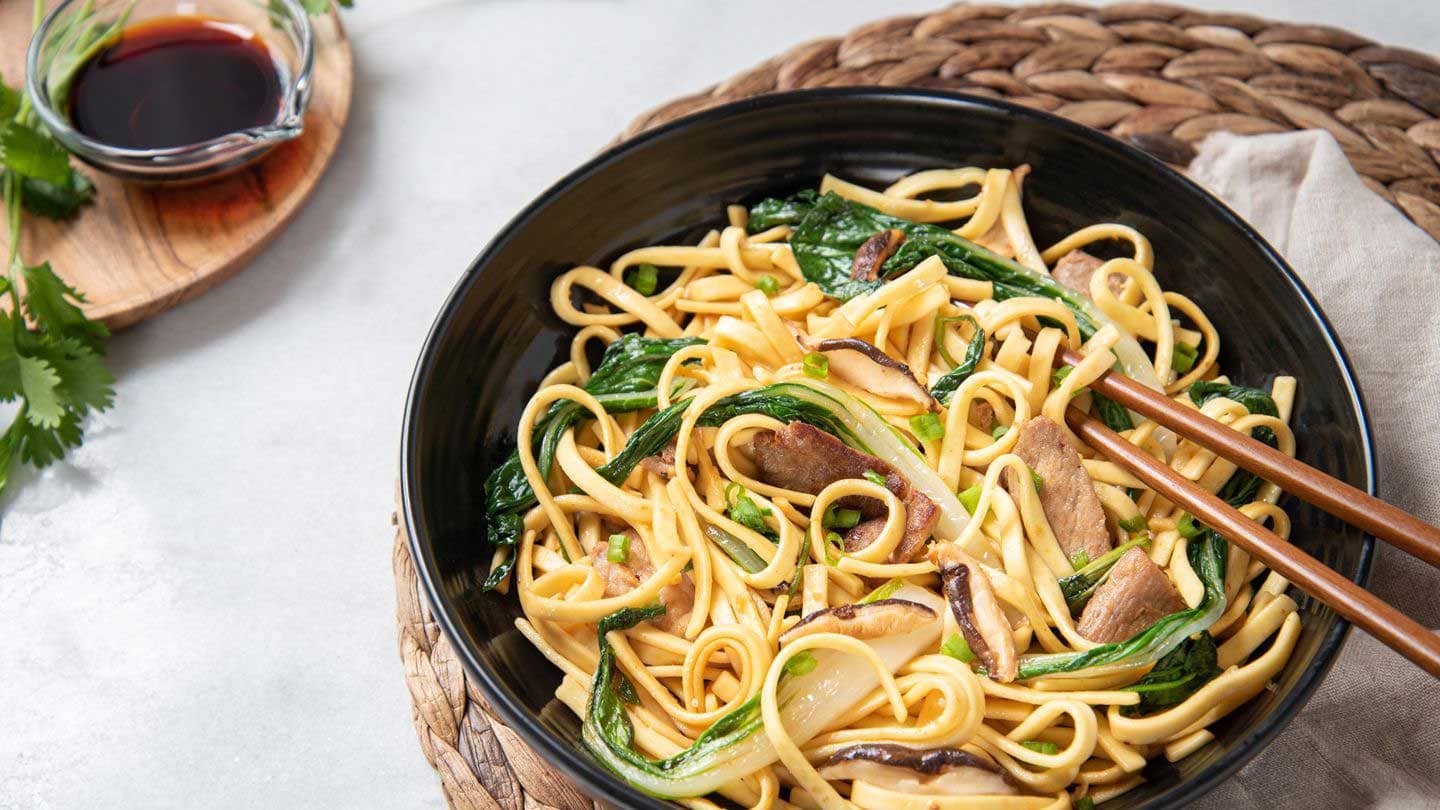 Mrs. Miller's Amish Noodles are perfect for making all sorts of dishes from all over the world. Recently, to celebrate the Lunar New Year, we've been busy in our test kitchen curating recipes like this one, Pork Lomein.
Pork Lomein is a Chinese dish that is a bit similar to Pork Chow Mein, another Mrs. Miller's favorite. Mrs. Miller's Noodles are a great substitute for traditional Chow Mein noodles because they have a similar texture and take half the time to cook instead of the 30-40 minute wait you'd have with regular rice noodles!
This dish is also versatile because you can use Mrs. Miller's Amish Noodles to make a stir fry with whatever veggies and proteins are in your fridge, or you can go traditional and use Pork, Bok Choy, and Shiitake Mushrooms, as we did!
We hope you enjoy our version of Pork Lomein just as much as our Pork Chow Mein from our cookbook!
Ingredients:
3/4 to 1 Bag of Mrs. Miller's Kluski or Medium Fine Noodles
12 oz Pork Loin
4 Cups Bok Choy, halved and chopped
4 oz Shiitake Mushrooms, sliced
2 tsp Sriracha
1 TBS Ginger, minced
1 tsp Garlic, minced
1/2 Cup Scallions, sliced thin
1/4 Cup Cilantro, chopped
2 TBS Peanut Oil
1 tsp Sesame Oil
1 1/2 tsp Cornstarch
1 tsp Rice Wine, plus 1 TBS, divided
1 tsp Soy Sauce, plus 1 TBS, divided
Salt and Pepper to taste
Directions
1
Cook Mrs. Miller's Noodles according to package instructions. Rinse Noodles and return to pot. Drizzle with Sesame Oil until coated well.
2
Place the Pork Loin in a bowl with the Cornstarch, 1 teaspoon Rice Wine, and 1 teaspoon of Soy Sauce. Stir to coat.
3
Mix Sriracha, remaining Rice Wine, and remaining Soy Sauce in a separate bowl.
4
Heat a wok or large sauté pan on high. Once hot, add 1 tablespoon of Peanut Oil, add Ginger and Garlic. Cook for only 5-10 seconds being sure not to burn the aromatics. Push aside.
5
Add the Pork Loin in a single layer in the pan – cook for about 1 minute. Stir until Pork starts to brown. Add the Bok Choy and Shiitake Mushrooms and combine with Pork. Do not let the Pork cook through at this step.
6
Add remaining Peanut Oil, cooked Mrs. Miller's Noodles, Scallions, Soy Sauce mixture, and Cilantro. Stir-fry until the Pork is cooked through.
7
Serve piping hot with an extra garnish of scallions
Share with friends