Kluski & Cabbage Recipe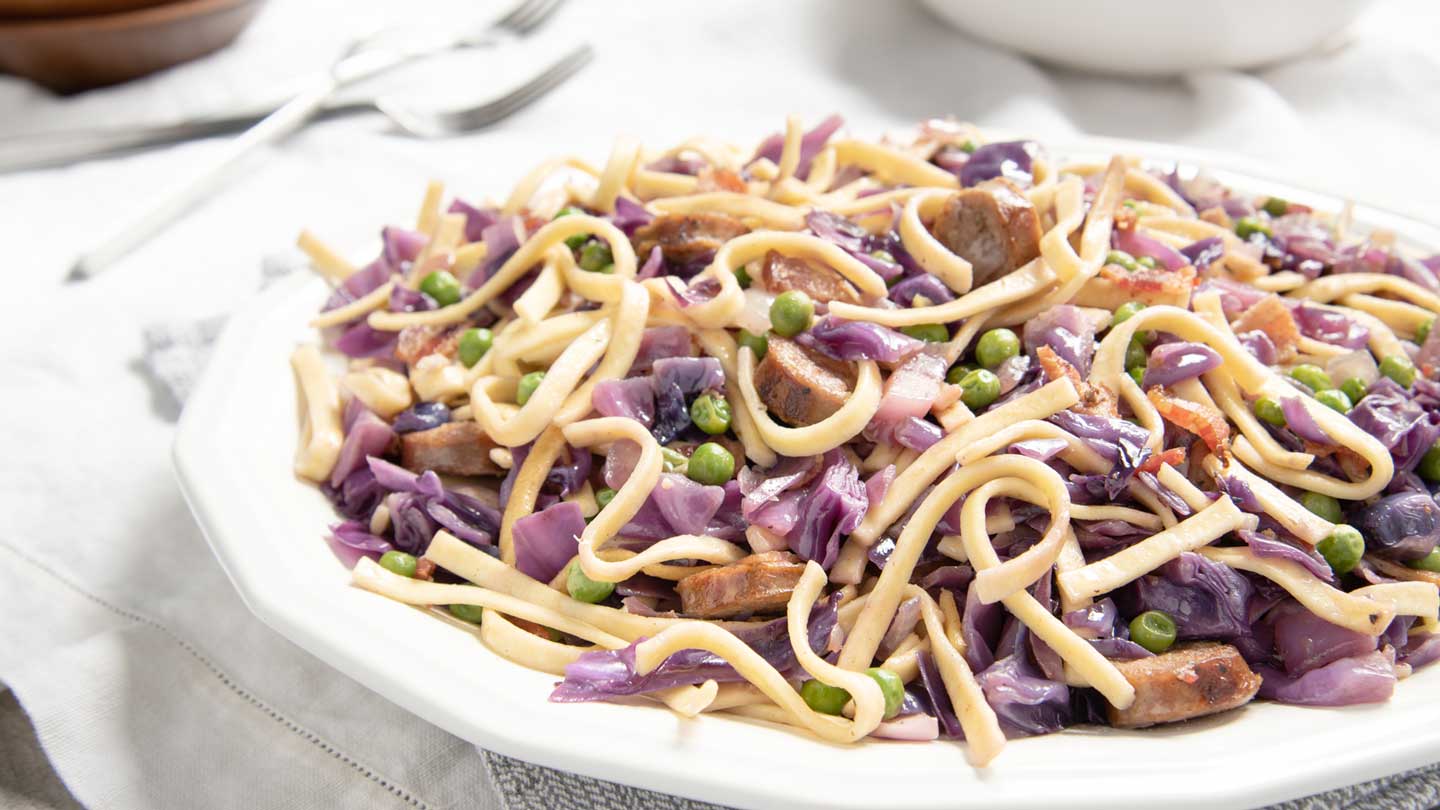 Cabbage, Sausage, and Kluski is a simple to make, yet a deliciously flavorful Pennsylvania Dutch Recipe that your entire family will love. This dish of cabbage, lightly browned bratwurst sausages, garlic, onions, and butter for flavoring pair perfect with Mrs. Miller's Kosher Kluski Noodles.
Prep Time

20 min

Cook Time

25 min

Total Time

45 min
Ingredients:
1 Package Mrs. Miller's Kluski Noodles
1 lb Bratworst
6 Slices of Thick Cut Bacon
1 Head Purple Cabbage, sliced thin
1 Large Yellow Onion, chopped
3 Cloves Garlic, minced
1 Cup Frozen Peas
1 Stick Unsalted Butter
1 tsp Worcestershire sauce
Salt and Pepper to taste
Directions
1
Cook Mrs. Miller's Kluski Noodles according to package instructions. Drain but do not rinse.
2
Fry the Bacon and set aside on a paper towel to absorb excess grease. Once cooled, rough chop. In the same pan, brown the Bratworst on all sides and set aside. Once cooled, slice thick.
3
Place 1 stick of Unsalted Butter in the pan and scrape the brown bits off the bottom of the pan. Sauté the Cabbage, Onion, and Garlic until cooked through.
4
Combine the drained Noodles with the Cabbage mixture along with the Bratworst, Bacon, and Peas. Cook 2-3 minutes until the Peas are warm.
Share with friends