Easy Baked Mac 'n Cheese Recipe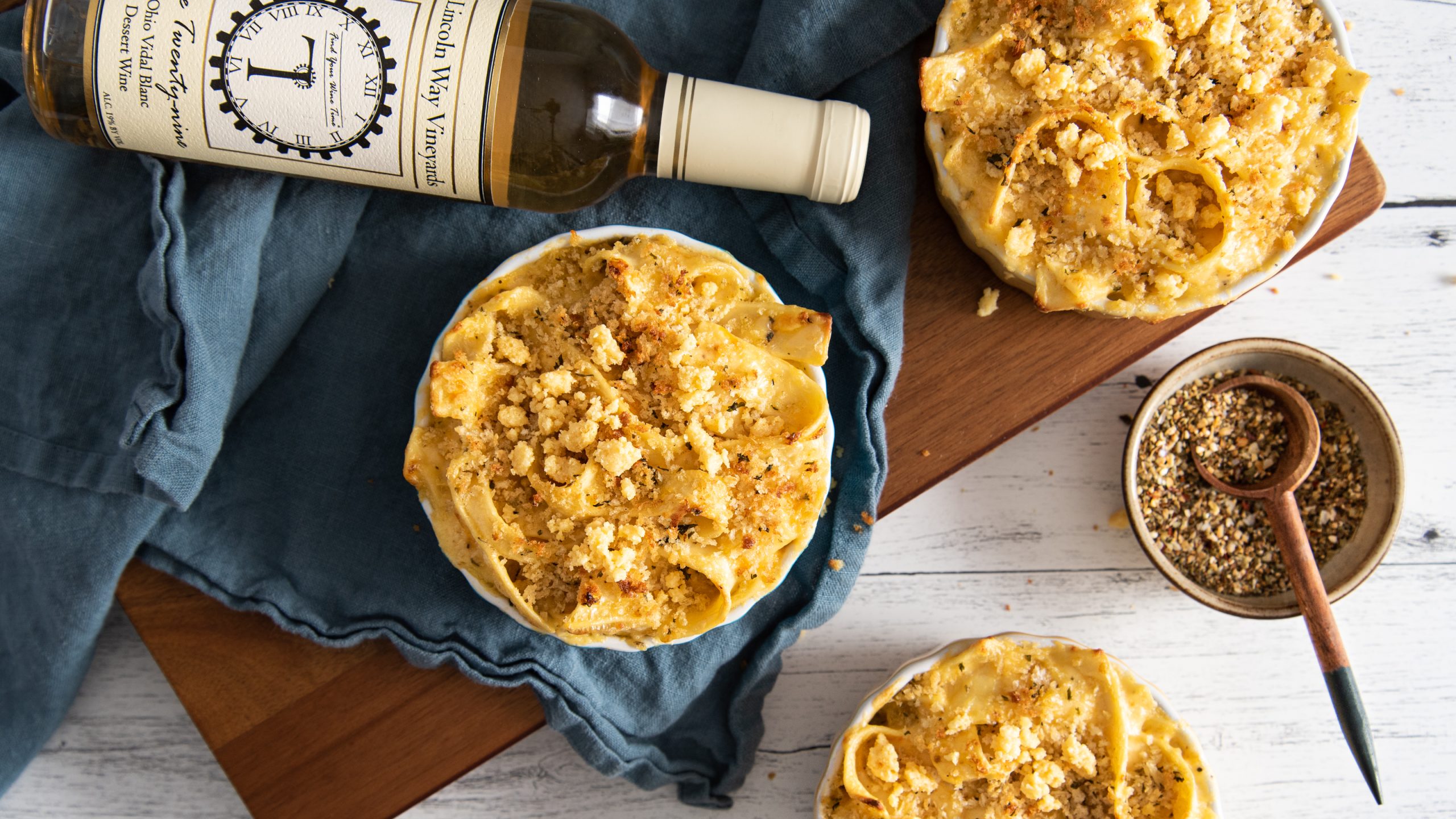 When it comes to classic comfort food, mac 'n cheese is a no-brainer. Simple, delicious, and hugely popular with kids and adults of all ages. Nothing beats the satisfying taste of creamy cheese mixed with carb-rich macaroni. But if you're looking for an easy way to kick your guilty pleasure up a notch and make it more enjoyable for everyone involved, why not try baking it?
Baking gives mac 'n cheese an added layer of flavor while giving the top layer that golden brown crunchy crust. And the addition Mrs. Miller's Wide Egg Noodles and other all-Ohio ingredients will make the most delectable baked mac 'n cheese imaginable!
Why use our Wide Egg Noodles for Baked Mac 'n Cheese?
Mrs. Miller's Wide Egg Noodles are made with the highest quality ingredients, including eggs that are sourced right here in Ohio. Our noodles boast a firm texture and delicate flavor that pairs perfectly with cheeses like cheddar, pepper jack, and mozzarella.
We also used Bunker Hill Cheese made right here in Ohio's Amish country in this recipe. Bunker Hill's Jalapeño Cheese adds a nice kick to the traditional mac 'n cheese flavor. It's also one of their yogurt cheeses which assists in giving this recipe an added layer of creaminess that won't dry out when baking.
Now let's talk about that secret ingredient that will keep people guessing - Grizzly Herb Seasoning. Crafted by our friends at New World Spice and Tea Traders, Grizzly Herb Rub is truly an all-purpose blend. While it's great on steaks and vegetables, it makes a great ``secret spice`` in our Easy Baked Mac 'n Cheese because it has ingredients like Onion, Garlic, Tomatoes, and Bell Peppers in the blend. No extra chopping!
So if you're ready to try something a little different for dinner tonight, give our Easy Baked Mac 'n Cheese with Mrs. Miller's Wide Egg Noodles a try! The perfect combination of Ohio ingredients will make this one dish even more memorable.
Enjoy!
Prep Time

20 min

Cook Time

30 min

Total Time

50 min
Ingredients
Ingredients
1/2 Bag Mrs. Miller's Wide Noodles
1 1/4 Cups Heavy Cream
1/4 Cup Butter
1/4 Cup Flour
3/4 Cup Milk
2 Cups Fresh Grated Bunker Hill Mild Cheddar Cheese
1 Cup Fresh Grated Bunker Hill Jalapeño Cheese
1 TBS Grizzly Herb Seasoning
1 tsp Everything Bagel Seasoning
Fresh Cracked Pepper to taste
For The Topping
2/3 Cup Panko Bread Crumbs
2 TBS Butter
1/2 TBS Everything Bagel Seasoning
1/4 Cup Fresh Grated Parmesan Cheese
Method
1
Cook Mrs. Miller's Homemade Wide Noodles two minutes less than package instructions. Drain and set aside.
2
Make a roux: Melt 1/4 Butter in a large saucepan and slowly whisk in 1/4 Flour until paste forms. Don't overcook the flour. It should remain white.
3
Slowly pour Milk and Heavy Cream into roux to create a bechamel, stir out any lumps then add the Cheeses and Spices until a silky cheesy sauce forms.
4
Add Wide Noodles to the bechamel and stir to combine.
5
For the topping: Melt Butter in a small saucepan and toast the Bread Crumbs – be careful not to burn. Once cooled, add the Spices and Cheese.
6
Pour the Noodle and Cheese mixture into a 9″ pan, top with Bread Crumb mixture, then bake at 400º for 15-20 minutes.
7
*Optional – bake in individual crocks. Bake time and temperature stay the same.
Share with friends