Creamy Spring Chicken Pasta Salad Recipe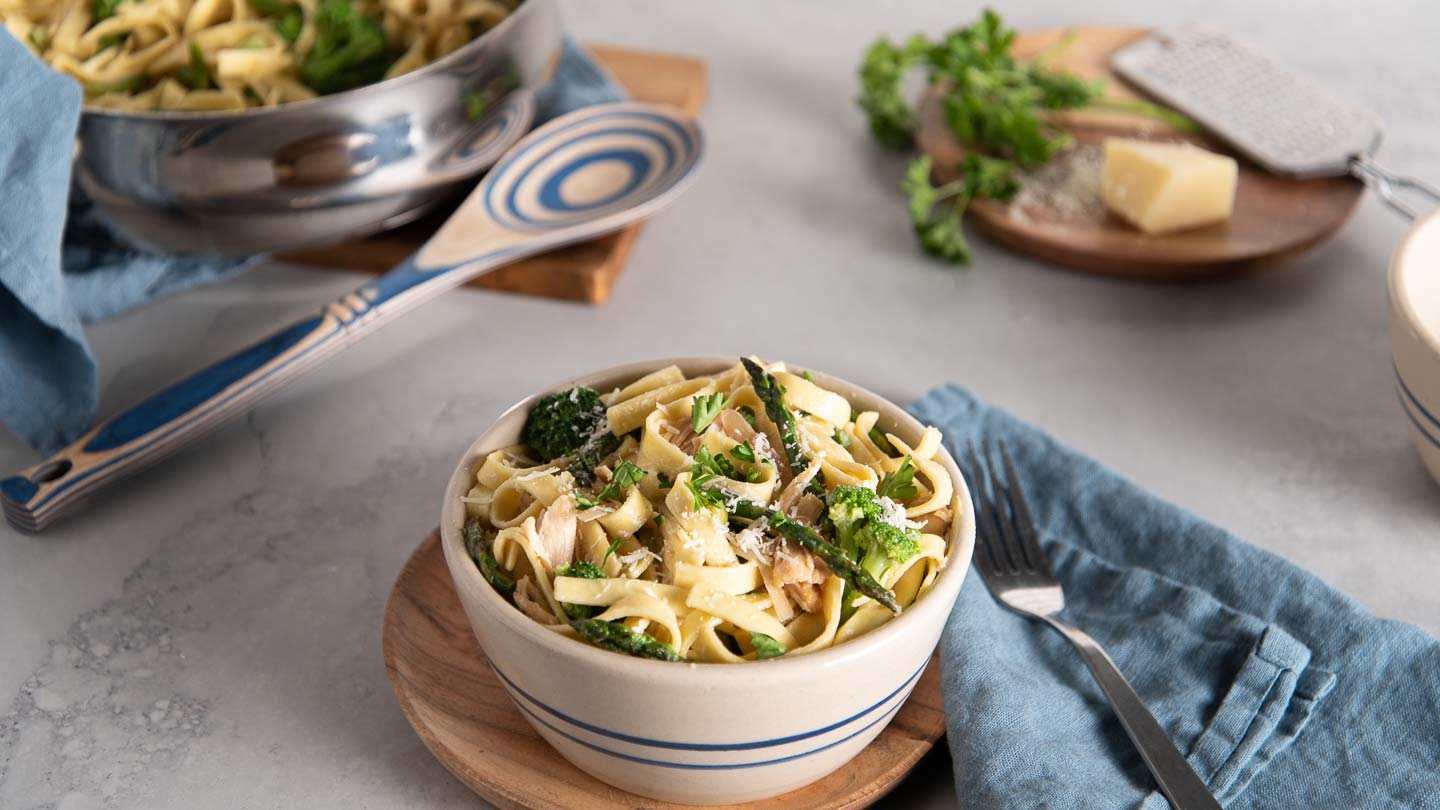 Chicken Salad is a classic dish that is often enjoyed during warmer months. It can be made with a variety of ingredients, but it typically includes chicken, mayonnaise, and various seasonings. In this recipe, we are using Mrs. Miller's Homemade Noodles to create a Creamy Spring Chicken Pasta Salad that brings all the fresh flavors of spring salads with a kick of heartiness from Lehman's Canned Chicken.
Mrs. Miller's Medium Egg Noodles are perfect for this dish because they are hearty and have a great texture. They also hold up well when mixed with other ingredients, making them ideal for salads. The noodles are cooked according to the package directions and then cooled before being added to the salad. We like to use a favorite pantry item - Lehman's Canned Chicken for this recipe because we always have it on hand. However, you can use any cooked and shredded chicken like a rotisserie chicken from your local grocery store.
In this version, we added the spring flavors of broccoli and asparagus to give it a seasonal boost but you can add whatever veggies you like this time of year to make it your own.
Prep Time

20 min

Cook Time

10 min

Total Time

30 min
Ingredients
1 Can Lehman's Cooked Chicken
5 Cups Broccoli Florets
4 Cups Asparagus, chopped into bite sized pieces
1 Shallot, sliced thin
2 Cloves Fresh Garlic, minced
1/4 Cup Flat Leaf Parsley, chopped
2 TBS Extra Virgin Olive Oil
For The Sauce
2 Cups Heavy Cream
1/2 Cup Parmesan Reggiano, grated
Salt and Pepper to taste
Method
1
Par boil Mrs. Miller's Medium Egg Noodles in a large pot of boiling water. Add Broccoli Florets and cook with the noodles until fully cooked. Drain reserving 1/3 cup of water. Set aside.
2
Meanwhile, heat the Extra Virgin Olive Oil in a large skillet and sauté Shallot, Asparagus, Garlic, Parsley, with Salt and Pepper to taste.
3
For the Sauce, heat the Heavy Cream in a sauce pan but do not let it boil. Add the Parmesan Reggiano, Salt, and Pepper. Do not skip the Salt. It is an important ingredient in the sauce.
4
Finally, add Mrs. Miller's Egg Noodles to the Sauce and reserved Pasta Water and toss to coat. Add Broccoli mixture and toss again.
You can serve this hot as a main entrée or refrigerate overnight and serve is as a delicious Pasta Salad option at your next party or picnic. You may need to add additional Sauce if you make it for a cold Pasta Salad so make a little extra of that delicious Sauce. Enjoy!
Share with friends