Butternut Squash with Spinach Noodles Recipe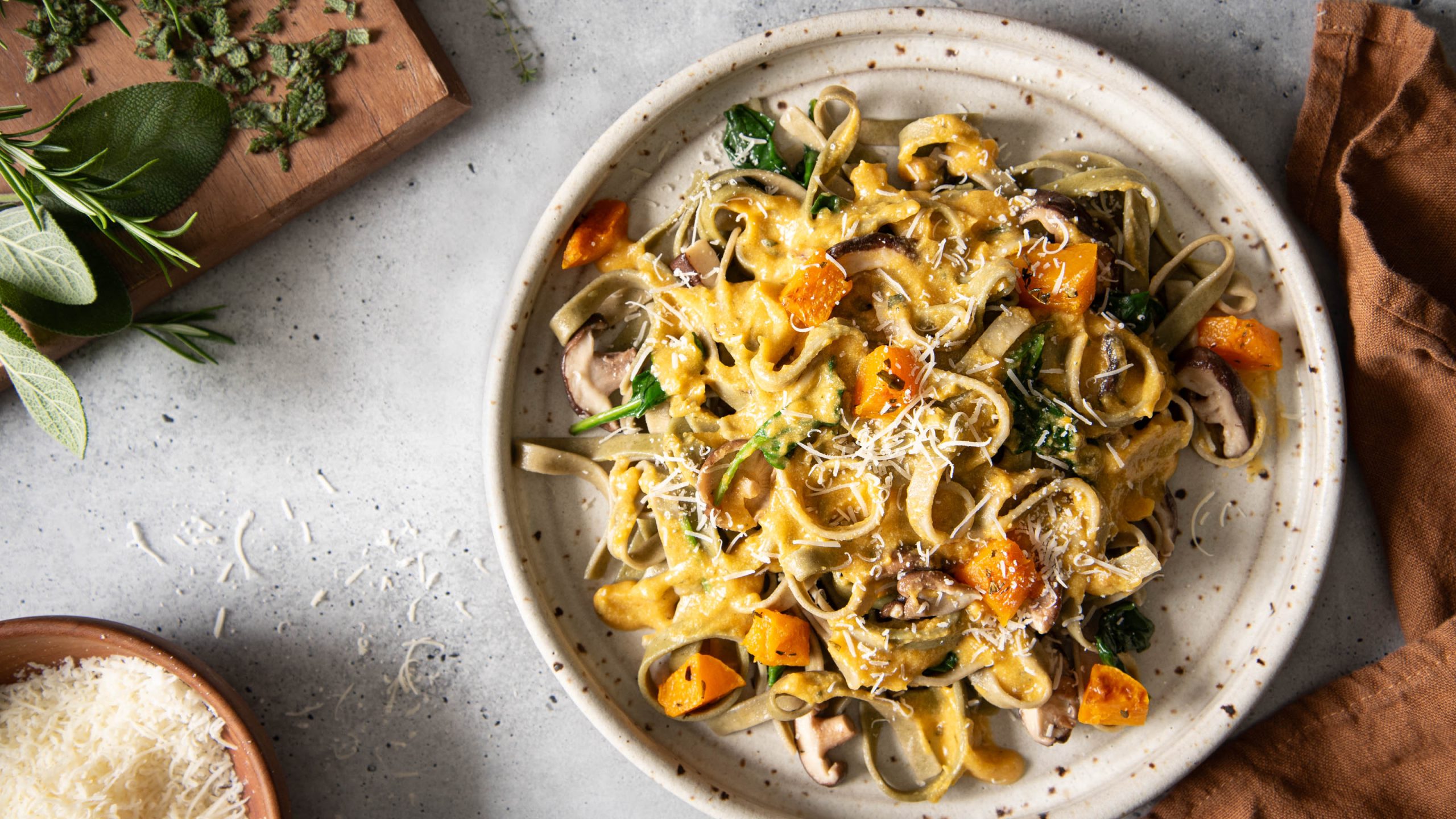 The moment autumn paints the world with warm hues of red, orange, and gold, it's not just the scenery that changes; it's the very essence of our plates. It's a time when we embrace the bountiful gifts of nature, and Butternut Squash is a leading ingredient in this most delicious time of year.
Butternut Squash
If autumn had a mascot, it would be the Butternut Squash. Its elegant, elongated shape and warm, earthy flavor make it one of the most used fruits of the fall harvest. Butternut Squash is so versatile, ready to play various roles in your culinary creations, from soups to casseroles and, as we're about to explore, sauce to pour over Mrs. Miller's Spinach Noodles.
Spinach Noodles
As we prepare to embark on this culinary adventure, we can't forget our nutritious & delicious Spinach Noodles. Mrs. Miller's Spinach Egg Noodles are a nutritional powerhouse that even kids love. They're a great way to sneak a veggie onto your entire family's dinner plate this fall.
When it comes to getting young children to eat their veggies, mom's got a lot of tricks up her sleeve. But there is one family favorite that you and your picky eater can both agree on – Mrs. Miller's homemade Spinach Egg Noodles! Packed with vitamin B and only cholesterol-free, these noodles will get even the fussiest eaters excited about vegetables. The fusion of Butternut Squash and Spinach Noodles promises a dish that's as nutritious as it is delicious.
Mrs. Miller's Butternut Squash Pasta with Spinach Noodles promises to be a dish that captures the essence of autumn while celebrating the rich culinary heritage that brought us here. The aroma, the textures, and the memories waiting to be made; they're all part of the recipe that's much more than just ingredients – it's harvest season memories in every bite.
Prep Time

15 min

Cook Time

45 min

Total Time

1 hr
Ingredients
Ingredients
2 Cups Butternut Squash, cubed
1 TBS Extra Virgin Olive Oil
6-10 Cloves Garlic
2 TBS Fresh Thyme Leaves
2 TBS Fresh Rosemary, chopped
Crushed Red Pepper Flakes, to taste
Kosher Salt and Black Pepper, to taste
For the Sauce
1/2 Cup Ricotta Cheese
2 TBS Butter, salted
1 TBS Fresh Sage, chopped
1 - 5oz bag of Baby Spinach
1/2 Cup Gouda Cheese, shredded
1/3 Cup Parmesan Cheese, grated
Method
2
On a baking sheet, toss together the olive oil, butternut squash, garlic, thyme, 1 tablespoon rosemary, and a pinch each of red pepper flakes, salt, and pepper. Bake 30 minutes, until the squash is tender.
3
Add the butternut squash, garlic, and ricotta to a food processor. Puree until smooth. Season with salt and pepper.
4
Bring a large pot of salted water to a boil. Cook the pasta according to package directions until al dente. Just before draining, remove 1 cup of the pasta cooking water. Drain.
5
In a large skillet, melt together the butter, sage, and 1 tablespoon rosemary. Cook until the butter is browning, then add the butternut puree and 1/2 cup pasta cooking water, stirring until combined. Melt in the gouda and parmesan. Add bag of baby spinach and let it cook down. 
6
Add the pasta to the sauce, tossing to combine. If needed, thin the pasta sauce with a little of the reserved cooking water.
7
Divide the pasta between plates. Top with parmesan. Twirl the pasta up. EAT and ENJOY.
Share with friends