Breakfast Casserole Recipe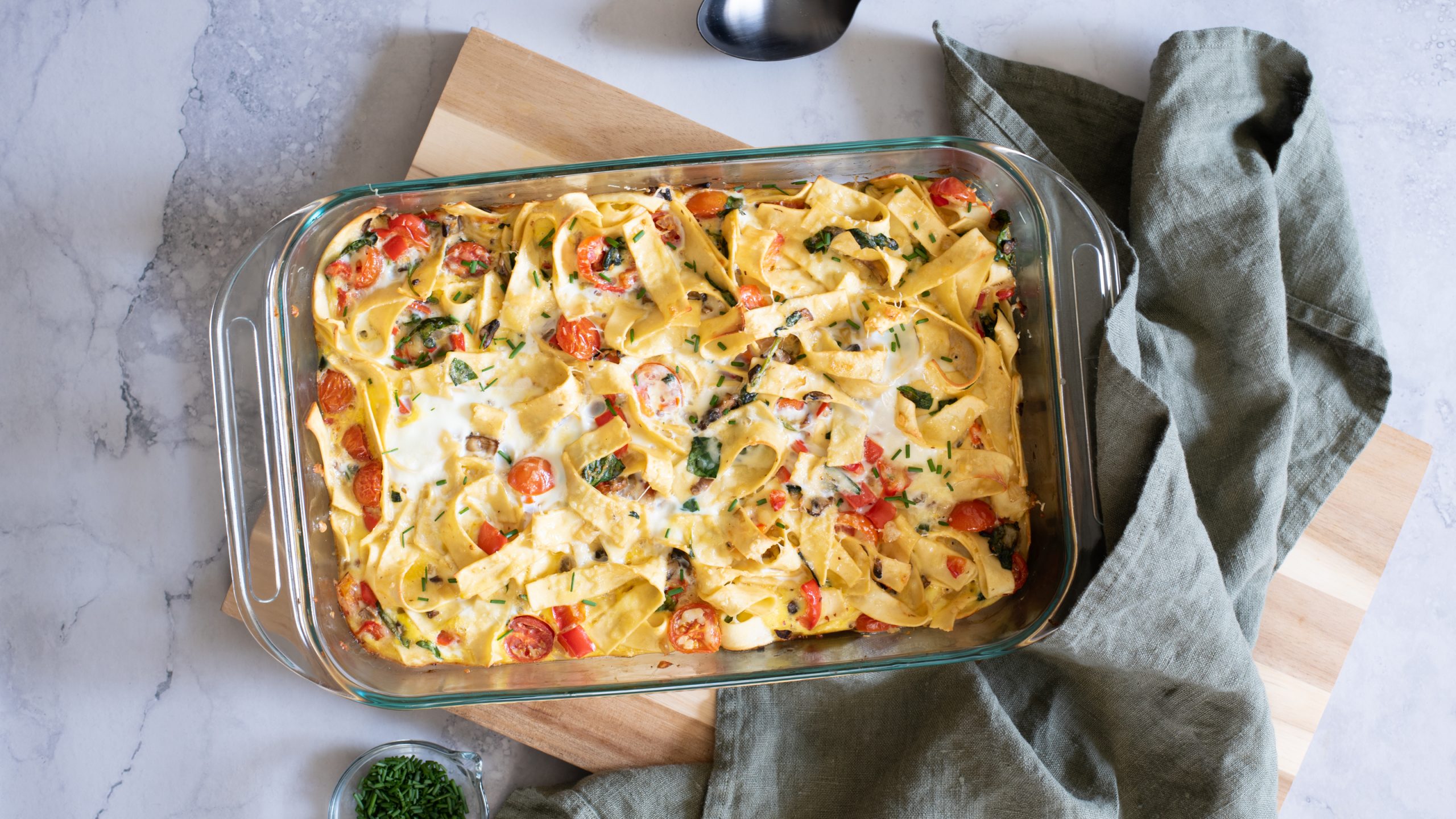 If you're looking for a delicious, easy-to-make breakfast casserole that will blow away your family and friends, this noodle breakfast casserole is the recipe for you! It takes all of the classic breakfast flavors – sausage, eggs, cheese, and peppers – but swaps out potatoes for Mrs. Miller's Homemade Noodles. Trust us - it's an unexpected twist that your taste buds won't forget!
In this recipe, we use our Wide Egg Noodles - but you can also use our Medium Egg Noodles or Extra Wide Egg Noodles, depending on what's in your pantry. Mrs. Miller's Old Fashioned Wide Noodles are perfect for soaking up delicious sauces and flavors, and they'll always leave you feeling satisfied. And you don't have to feel guilty feeding your friends and family our noodles because they are made with only the finest clean ingredients, including locally sourced eggs and wheat.
Did someone say ``meal prep?`` Yes! This is a great recipe that can be made ahead and stored in the refrigerator for a few days. When you're ready to eat, simply pop your pre-portioned container into the microwave and viola! Hot breakfast every day of the week. Serve with a side of fresh fruit and enjoy.
A breakfast casserole is always a great go-to meal during busy weekdays when you don't have time to make something complicated but still want to provide something delicious for your family, guests or yourself. With this recipe swap out traditional potatoes for Mrs. Miller's Homemade Noodles – an unexpected twist that adds flavor and texture to this classic dish! Give this recipe a try today - we guarantee everyone will love it!
We hope you savor every bite of this delicious Mrs. Miller's Noodle Breakfast Casserole! Let us know if you make it by tagging us on social media @mrsmillersnoodles
Prep Time

20 min

Cook Time

30 min

Total Time

50 min
Ingredients
Ingredients
1/2 Bag Mrs. Miller's Wide Noodles
1 TBS Extra Virgin Olive Oil
1 Medium Onion, diced
1 Medium Bell Pepper, diced
1 Cup Baby Bella Mushrooms, diced
1 Cup Grape Tomatoes, halved
1 generous handful of Spinach, rough chopped
10 Eggs, lightly beaten
1 Cup Cheddar Cheese
1/4 Cup Extra Cheese, grated for topping
Sea Salt and freshly Ground Black Pepper to taste
Fresh Chives, optional
Method
1
Cook Mrs. Miller's Wide Noodles according to package instructions – cover and set aside.
2
Lightly grease a 9″ casserole dish.
3
Sauté Onion and Pepper on medium in 1 TBS Olive Oil until the Onion is translucent then add Mushrooms, Tomatoes, and Spinach and sauté another 2-3 minutes.
4
Combine the cooked Egg Noodles with the Vegetable Mixture and Cheese. Make sure everything is evenly distributed.
5
Pour mixture into 9″ casserole dish and use your hands to make sure the add-ins are evenly distributed.
6
Season Eggs with Salt and Fresh Cracked Pepper to taste and pour them over the pasta mixture and shake the dish a little to make sure the egg are evenly distributed.
7
Top with remaining cheese and bake for 25-30 minutes or until a toothpick comes out of the center of the dish clean.
8
Optional: Garnish with fresh chives and serve warm.
Share with friends