Beef Stroganoff Recipe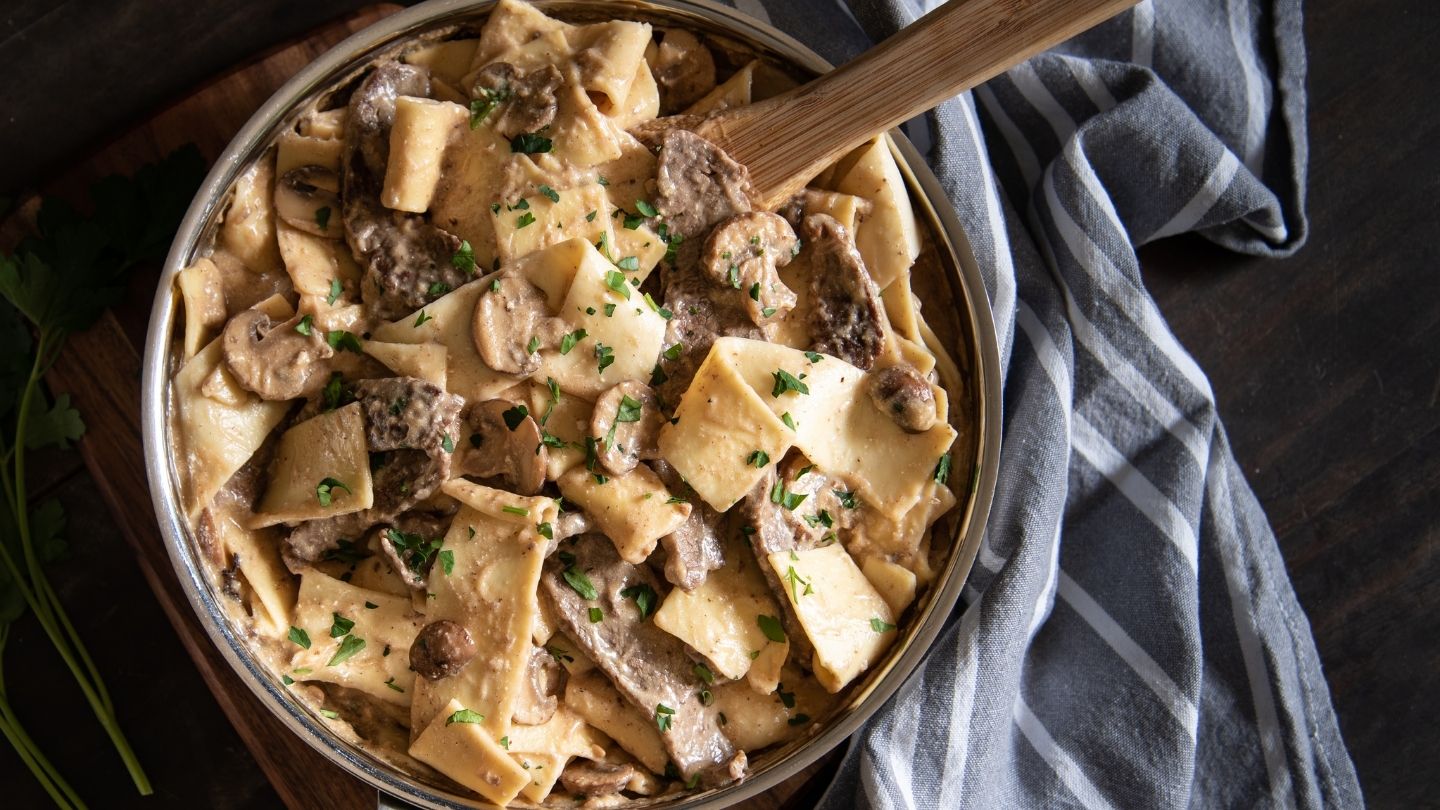 There is nothing like a big pot of delicious comfort food to make you feel all warm and fuzzy inside. And there's no better comfort food than Beef Stroganoff! This dish has been around for centuries, and there are many different variations of it. In this blog post, we will discuss the origins of Beef Stroganoff and share a recipe for the classic version. We will also provide tips on how to make it your own! So pull up a chair, heat up some Extra Wide Egg Noodles, and let's get cooking!
First, let's discover where exactly Beef Stroganoff originated. According to legend, the dish was created by a French chef who worked for the Russian Count Stroganoff in the 19th century. The original recipe called for sauteed beef that was then simmered in a sauce made of sour cream, mustard, and beef broth. This version of the dish is still popular in Russia today. We had no idea Beef Stroganoff is a traditional Russian dish because it's so common here in the States!
So, how did Beef Stroganoff become such a staple in American cuisine? It is believed that the dish made its way to the United States during World War II. Soldiers who were stationed in Europe came home and craved the comfort food they had grown to love. And thus, Beef Stroganoff became a part of American culture.
Now that we know a little bit about the history of this dish, let's get to the good stuff - the recipe! This Beef Stroganoff recipe is sure to please any crowd. It is packed with flavorful beef, Mrs. Miller's Extra Wide Egg Noodles, and a creamy sauce that will have you coming back for seconds. And if you're looking to add your personal touch to the dish, we've got some great ideas for you!
Try adding mushrooms, onions, or garlic to the beef while it is cooking. You can also experiment with adding different types of cream or cheese to the sauce. And if you want a little bit of a kick, try adding some hot sauce to the mix. No matter how you make it, Beef Stroganoff is sure to be a hit!
So there you have it - everything you need to know about Beef Stroganoff. This dish has been delighting taste buds for centuries, and we are excited to share it with you. Be sure to try our recipe and let us know how you like it! Until next time, happy cooking!
Prep Time

10 min

Cook Time

20 min

Total Time

30 min
Ingredients:
1 1/2 lbs Flank Steak, sliced thin
1/4 C Butter
1 Onion, sliced thin
1 lb Baby Bellas, sliced thin
4 Cloves Garlic, minced
1/2 C Dry White Wine
1 1/2 C Beef Stock
1 TBS Worcestershire Sauce
3 TBS Flour
1/2 C Plain Greek Yogurt
Salt 'n Pepper to taste
Directions
1
Cook Mrs. Miller's Noodles according to package instructions
2
Sear the steak in 2 tablespoon of the Butter for 2-3 min on each side, or until browned. Set aside
3
Sauté the veggies: Onions first, then add mushrooms, and finally garlic. Deglaze the pan with the Wine and cook the alcohol out for about 3 minutes
4
Whisk Beef Stock, Worcestershire Sauce, and Flour in a bowl until smooth. Pour mixture into pan with veggies and stir to combine
5
Serve warm over Mrs. Miller's Noodles with a twist of cracked pepper
Share with friends