Pulled Pork Tacos Recipe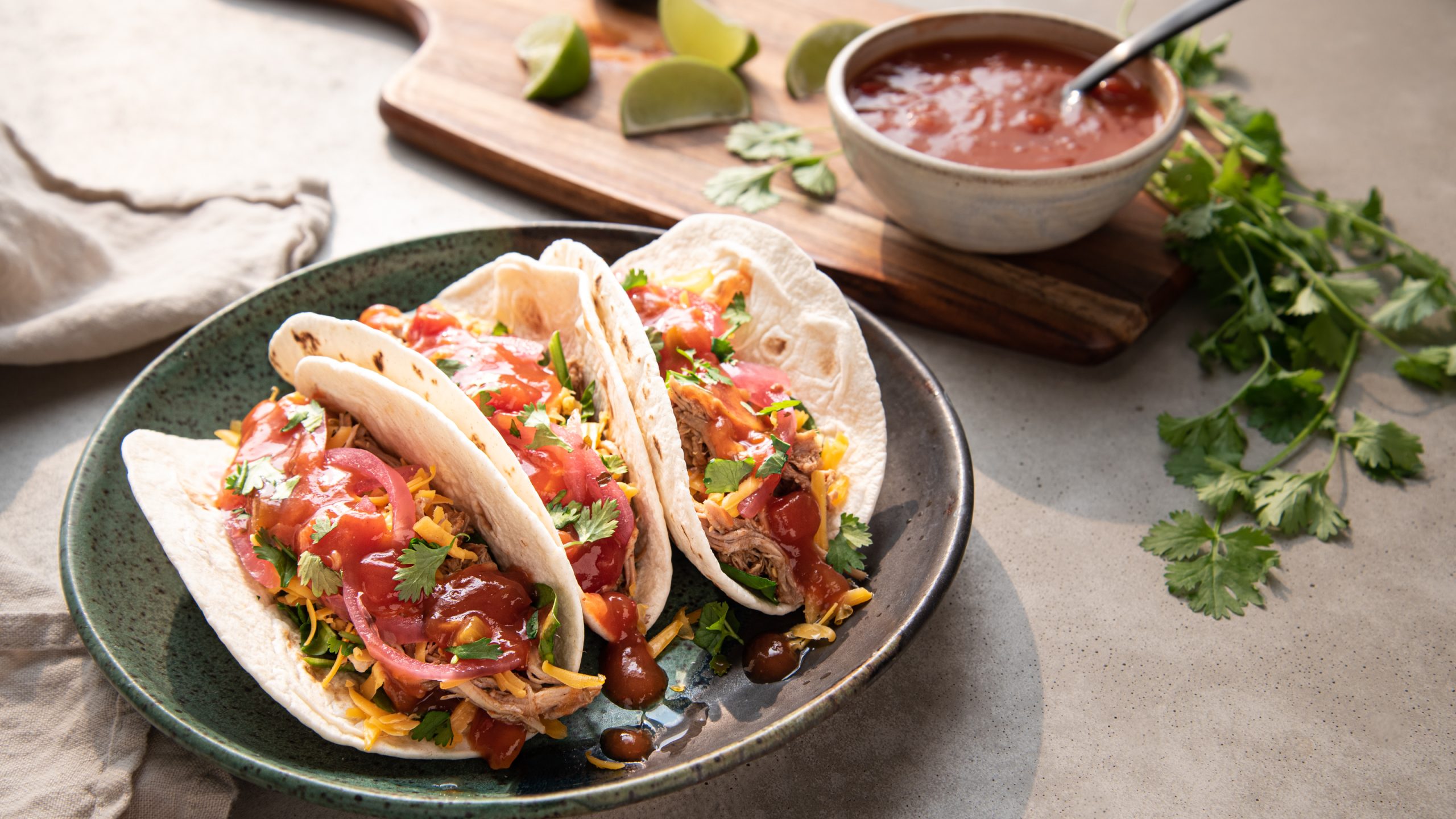 If you're looking to up your taco game for your next dinner party, look no further than Mrs. Miller's Pulled Pork Tacos. Juicy pulled pork mixed with Mrs. Miller's Mild Salsa is a flavor combination your friends and family won't forget and is sure to leave them craving for more.
Unveiling Mrs. Miller's MILD Salsa
The secret behind the extraordinary flavor that takes Pulled Pork Tacos to new heights is Mrs. Miller's MILD Salsa. Mrs. Miller's MILD Salsa is a real crowd-pleaser with its rich blend of tomatoes, onions, peppers and spices. Fresh ingredients for the classic and mild flavor you want. For those craving more heat, Mrs. Miller's HOT Salsa packs a punch.
Mrs. Miller's Pulled Pork Tacos are delicious just as we make them but don't forget to think out of the box with toppings and garnishes. Some of our favorites are guacamole, pico de gallo, cilantro, and sour cream. So, make your next Taco Tuesday a fiesta with these delicious Pulled Pork Tacos and savor the magic of Mrs. Miller's MILD Salsa.
Prep Time

10 min

Cook Time

6 hr

Total Time

6 hr 10 min
Ingredients
Ingredients
1 4lb. Boneless Pork Shoulder Roast
1 can Chipotle Chili in Adobo Sauce, 1 Chili + 2 TBS of Adobo Sauce
3 tsp Garlic, minced
1 small Onion, cut in half
1 TBS Ground Cumin
1 TBS Smoked Paprika
Salt and Fresh Cracked Pepper to taste
10-12 6 in. Tortillas
Favorite toppings such as Lettuce, Chopped Spinach, Cheese, Pickled Red Onions, Cilantro, or Lime wedges – optional, for serving
Method
1
Trim excess fat from the Pork and cut into 4 pieces. Season all sides generously with Salt.

2
Put Chipotle Chili, Adobo Sauce, Cumin, Smoked Paprika, Garlic and 1 teaspoon Salt in a slow cooker – stir to combine.
3
Add the Pork Roast and Onion to the slow cooker and turn to coat with the sauce. Cook on low for 6-8 hours or on high for 4 hours.
4
Transfer the Pork to a bowl and shred with two forks. Toss the shredded Pork with New World Carne Asada Seasoning and Mrs. Miller's MILD Salsa.
5
To serve, warm the tortillas and fill with pulled pork and desired garnishes.
Share with friends