Peach and BBQ Chicken Kebabs Recipe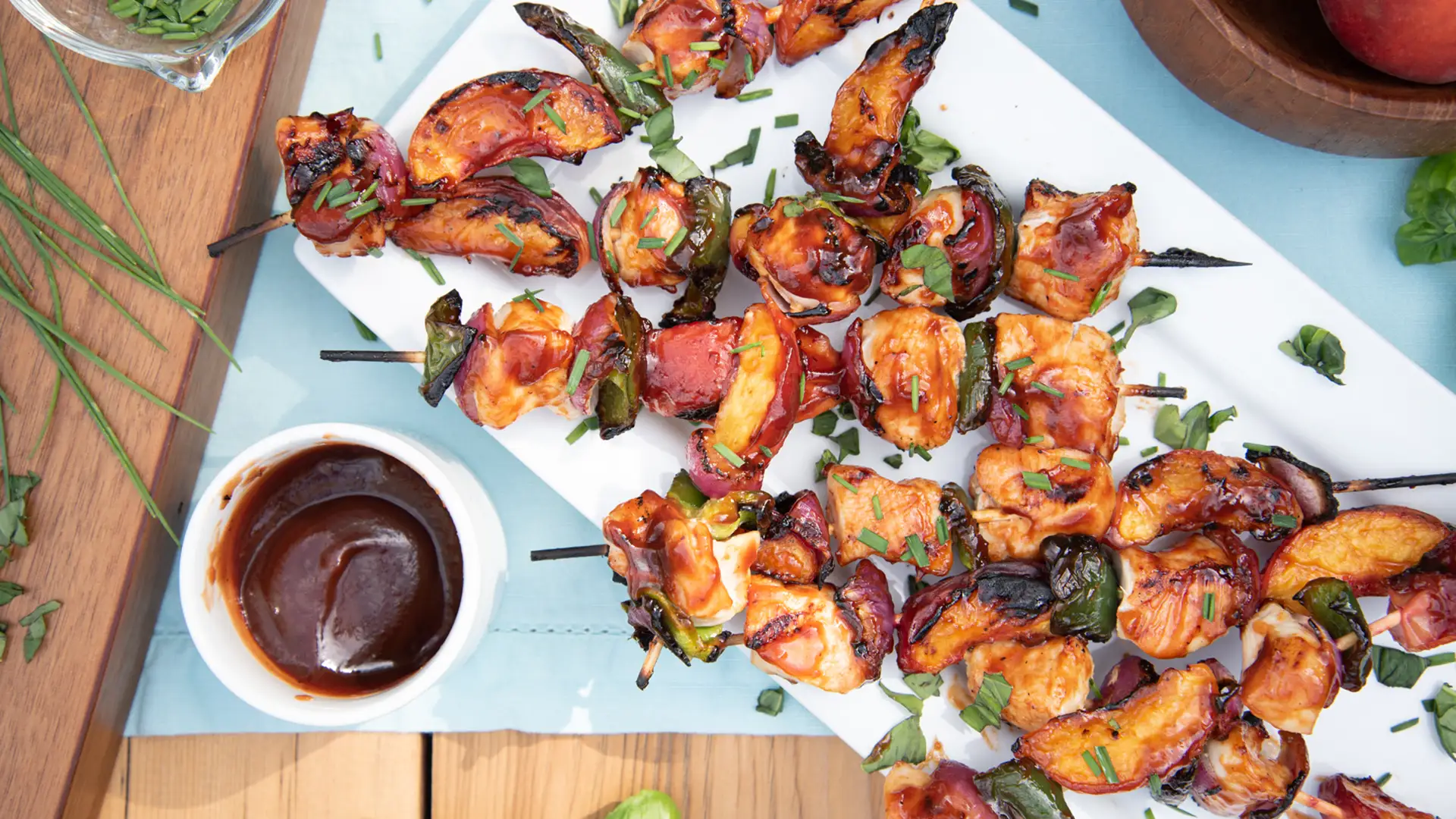 Labor day is a time to celebrate American workers and their achievements. It's also a great opportunity to get outside and enjoy the beautiful weather with friends and family. If you're planning on having a picnic this weekend, we've got the perfect recipe for you: Peach & BBQ Chicken Kebabs!
First let's talk about Ohio Peaches. Amish Country Ohio and the surrounding areas have the best peaches around, and they're only in season for a few weeks out of the year. If you can get your hands on some, definitely take a bundle home! We highly recommend the Ohio White Lady Peaches for just chomping into or in your favorite Peachy recipes.
Now, about those Kebabs. Kebabs are a perfect picnic food because they're easy to make ahead of time and they can be cooked on the grill. What, exactly, is a kebab? It's a dish of meat (usually chicken, lamb, or beef) that's been marinated and grilled on a skewer. Mrs. Miller's Homemade BBQ Sauce is the perfect marinade for these kebabs because it has a nice balance of sweet and smoky flavors.
So go ahead and fire up the grill this weekend, and enjoy some Peach & BBQ Chicken Kebabs! Don't forget to slather on Mrs. Miller's Homemade BBQ Sauce!
Have a great Labor Day weekend!
Ingredients
Reccommended Tools
Twelve 9'' Skewers, soaked in water for 30 minutes if using wood
Ingredients
1.5 lbs Boneless Skinless Chicken Breasts
3 Large Peaches, cut into 1'' pieces
1 Poblano Peppers, seeded and cut into 1'' pieces
½ Large Red Onion, cut into 1'' pieces
2 TBS Extra Virgin Olive Oil
Basil and Chives, chopped for garnish
Method
1
Soak Chicken Breasts in a Saltwater brine for at least 15 minutes. Remove, pat dry with paper towels, and slice into 1" pieces.
2
Prepare your grill over medium heat, about 400º F
3
Gently toss Chicken Cubes, Poblanos, and Peaches in Olive Oil.
4
Assemble on Skewers in whatever order you prefer.
5
Place on direct heat and grill for 5 minutes. Flip and brush with Mrs. Miller's BBQ sauce – grill for 4 more minutes. Flip and coat with BBQ sauce – grill for 2 more minutes. Remove and brush with a final coat of sauce.
6
Sprinkle your Kebabs with Basil and/or Chives and serve hot.
Our summery Peach and Chicken Kebabs would pair perfectly with Mrs. Miller's BBQ Baked Beans or Lemon Pasta Salad. Bon Apetit!
Share with friends