Herby Mrs. Miller's Noodles in Wild Mushroom Butter Sauce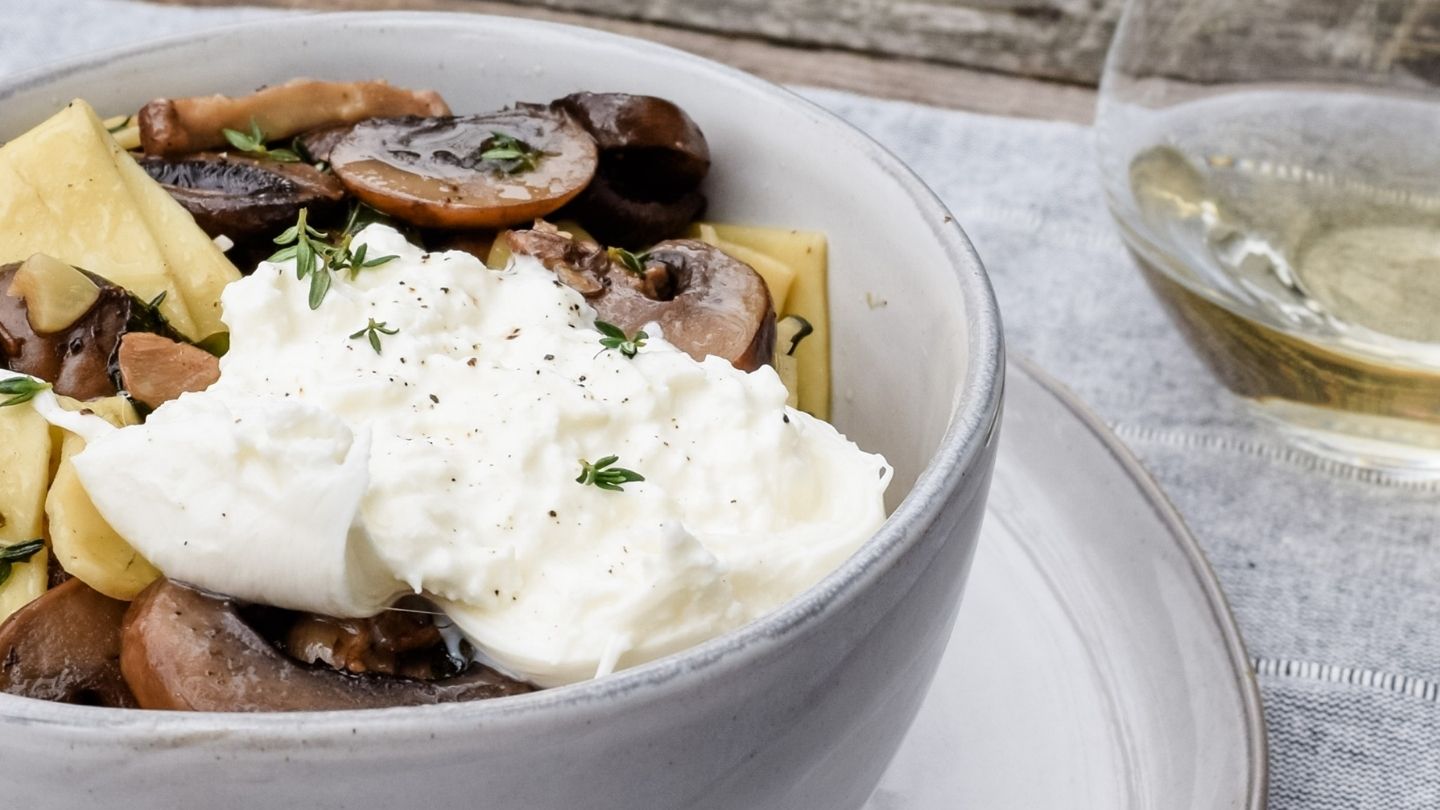 Serve this elegant noodle dish this weekend and make your whole family feel like they're dining at a 5-Star restaurant. Both our Wide and Extra Wide Noodles are perfect for this dish because they can really stand up to the hearty mushrooms and buttery sauce. This one is a "must try" so let us know what you thought of it after indulging.
Prep Time

10 min

Cook Time

30 min

Total Time

40 min
Ingredients:
Mrs. Miller's Wide or Extra Wide Noodles
1–2 Pounds of Wild Mushrooms, sliced
1 Ball Burrata Cheese
2–3 Cloves Garlic, minced
1/3 Cup Dry White Wine or Broth
2 Tablespoons Fresh Squeezed Lemon
1 Tablespoon Fresh Sage, chiffonade
2 Tablespoons Fresh Thyme
1/2 Cup Fresh Basil, chiffonade
2 Tablespoons Extra Virgin Olive Oil
6 Tablespoons Unsalted Butter
Salt and Fresh Cracked Pepper to taste
Directions
1
Cook Mrs. Miller's Noodles according to package instructions.
2
Sauté Wild Mushrooms in the Extra Virgin Olive Oil and a sprinkle of Salt and Pepper for 5-7 minutes until they start to caramelize.
3
Add Butter, Fresh Herbs, and Garlic. Cook until the Garlic is fragrant but not burnt. Your pan should be saucy at this point..
4
Slowly add Wine, stir. Then add the Lemon Juice, stir. Add Mrs. Miller's Noodles to soak up some sauce and heat through.
5
Serve hot in bowls with a piece of Burrata Cheese over stop, a sprinkle of herbs, and Fresh Cracked Pepper.
This dish is wonderful on cool and rainy spring evenings and bonus if you can wait until it's Morel Season and you can add them in, too!
Share with friends