Kale and Bean Soup Recipe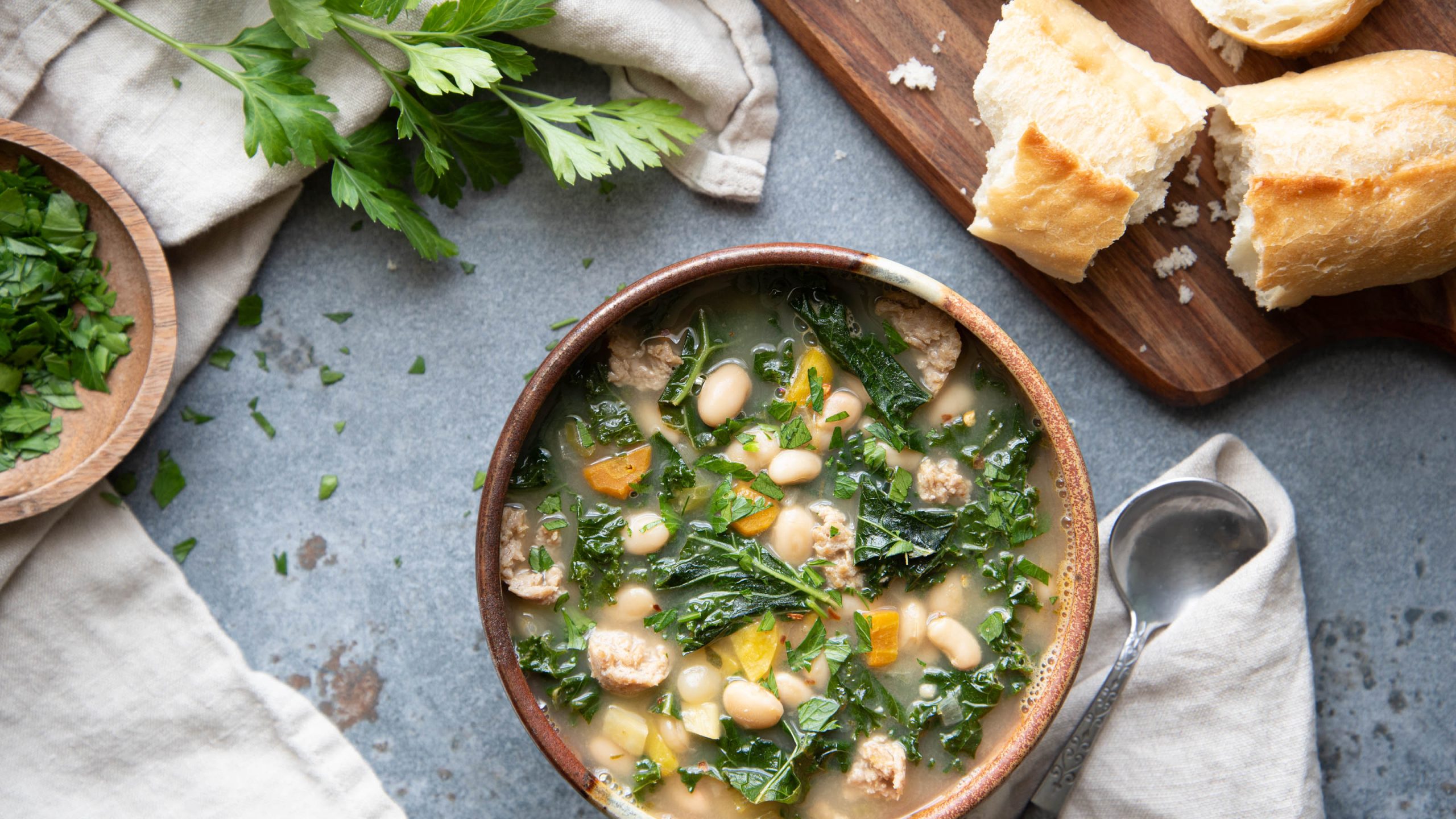 There's something undeniably enchanting about a steaming bowl of soup on a chilly day. It's like a warm embrace from within, bringing comfort and nostalgia to the forefront. Today, we're embarking on a heartwarming journey with Kale and Bean Soup, a soul-soothing delight that's sure to evoke cherished memories of home-cooked meals. And our secret ingredient? Mrs. Miller's Vegetable Soup Base.
In a world bustling with culinary trends and exotic flavors, there's an eternal charm in the simplicity of comforting soups. Whether you're feeling under the weather or just longing for a taste of home, a bowl of warm, hearty soup has the power to transport you to a place of pure contentment.
Imagine a bowl brimming with vibrant greens and tender beans, inviting you to take a journey down memory lane. Kale and Bean Soup is more than just a dish; it's a piece of nostalgia that warms the soul and fills your senses with delight. The mere mention of homemade soups conjures images of kitchens filled with aromatic whispers of simmering goodness.
In our Kale and Bean Soup, kale isn't just an ingredient; it's a superstar. Packed with vitamins, minerals, and antioxidants, kale transforms a classic recipe into a nutritional powerhouse. The beauty of kale lies in its versatility. Its robust flavor complements the mild sweetness of beans, adding depth and character to our soup. This twist on an age-old recipe brings a touch of modernity to a cherished classic.
As the soup bubbles away on the stove, the kitchen fills with tantalizing aromas, a prelude to the symphony of flavors that await. The tender beans and robust kale come together to create a melody that dances on your taste buds. As you ladle out a steaming serving of Kale and Bean Soup, you'll discover that this bowl isn't just about food; it's about warmth, nostalgia, and the comfort of home. With every spoonful, you're taken on a journey through time, back to those cozy evenings when soup was more than a meal; it was a memory.
Prep Time

20 min

Cook Time

20 min

Total Time

40 min
Ingredients
Ingredients
2 TBS Olive Oil
1 lb Turkey Sausage, ground
1 Shallot, small dice
1 Medium Carrot, small dice
1 Stick Celery, small dice
2 Cloves Garlic, minced
Chili Flakes or Aleppo Pepper, to taste
1 Sprig Fresh Rosemary, minced
4 Cups Cooked Navy Beans, drained and rinsed
4 Cups Water
2 TBS Fresh Lemon Juice
Sea Salt and Ground Black Pepper, to taste
3 Cups Packed Kale, chopped (roughly 1 small bunch)
¼ Cup Flat Leaf Parsley Leaves, chopped
Method
1
Heat the oil in a medium-large pot over medium heat. Brown Turkey Sausage.
2
Then add the shallots, carrots, and celery to the pot and stir. Sauté the vegetables until lightly softened and translucent, about 5 minutes.
3
To the pot, add the garlic, chili flakes, and rosemary. Stir and cook until garlic is fragrant, about 30 seconds. Add the navy beans to the pot and stir. Add Mrs. Miller's Vegetable Soup Base and water to the pot and stir once more. Bring to a boil.
4
Once boiling, ladle half into an upright blender. Add the lemon juice to the blender as well. Carefully bring the speed of the blender up to high and blend until this portion of the soup is totally liquified. Pour this liquified portion back into the pot. Season with salt and pepper.
5
Add the kale to the pot and bring the soup to a boil. Once the kale is slightly wilted and bright green, season the soup once more with salt and pepper, if you find it necessary. Stir in the chopped parsley as well. Serve the soup hot.
Share with friends