Italian Pasta Salad Recipe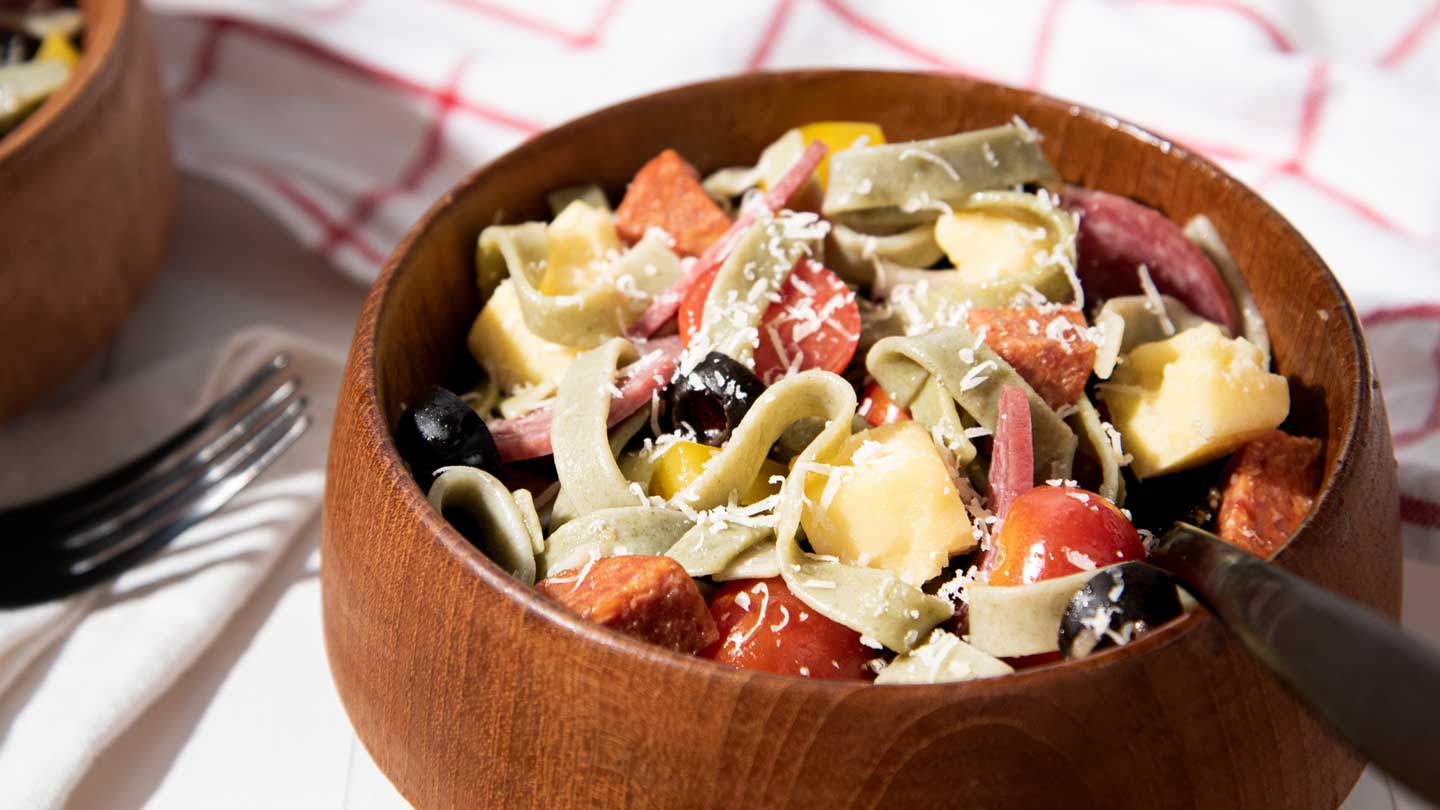 There's nothing quite like a good pasta salad, especially in the summertime. And Mrs. Miller's Artichoke Spinach Noodles make the perfect addition to any salad - they're flavorful, nutritious, and add a pop of color and interest. In this recipe, we used thick-cut pepperoni and salami from our local market and cheese from a local producer. Supporting local not only makes food taste better but it's also better for the environment.
What other foods pair well with Pasta Salad? Hamburgers, hotdogs, you name it! Summertime picnics and barbecues are the perfect time to enjoy this dish. It travels well and can be made ahead of time, which makes it ideal for potlucks and parties. If you do decide to make it a day ahead be sure to reserve some of that delicious dressing to toss on just before serving otherwise it could end up dry.
What other ingredients go well in Italian Pasta Salad?
Some of our favorites include: cherry tomatoes, black olives, roasted red peppers, and green onions. But really, you can't go wrong with whatever you choose to add in. Get creative and make it your own! You can even make a vegetarian version - simply omit the meat and add in your favorite veggies.
No matter what, we think you'll love this Italian Pasta Salad Recipe as much as we do. Buon appetite!
Prep Time

10 min

Cook Time

20 min

Total Time

30 min
Ingredients
1 Cup Salami, chopped
3/4 Cup Pepperoni, chopped
1/2 Cup Yellow Bell Pepper, chopped
1 Cup Grape Tomatoes, halved
1/4 Cup Red Onion, fine diced
1/2 Cup Black Olives, sliced
1/4 cup finely chopped parsley
3/4 Cup Hard Mozzarella, cubed
Salt and Pepper to taste
For The Dressing
3/4 Cup Extra Virgin Olive Oil
1/4 Cup Red Wine Vinegar
3 TBS Hard Mozzarella Cheese, grated
1 1/2 TBS Red Pepper, fine chopped
1 tsp Onion, minced
1 TBS Dried Parsley, crushed
3/4 tsp Dried Basil, crushed
3/4 tsp Dried Oregano, crushed
1/2 tsp Garlic Powder
1 tsp Salt
1 tsp Sugar
1/2 tsp Black Pepper
Method
1
Cook Mrs. Miller's Artichoke Spinach Noodles according to package instructions, set aside.
2
Vigorously whisk Dressing ingredients until combined, set aside.
3
Place remaining Salad ingredients in a bowl and toss to combine. Add Mrs. Miller's Noodles and the Dressing. Toss again until fully combined.
4
Refrigerate until ready to eat.
Pro Tips:
- Crushing Dried Herbs in your fingers releases extra flavor and oils.
- Reserve a little cooking water and dressing if you plan to make this a day ahead so it's not dry when serving to guests. Add and toss just before serving.
Share with friends