Grilled Stuffed Peppers Recipe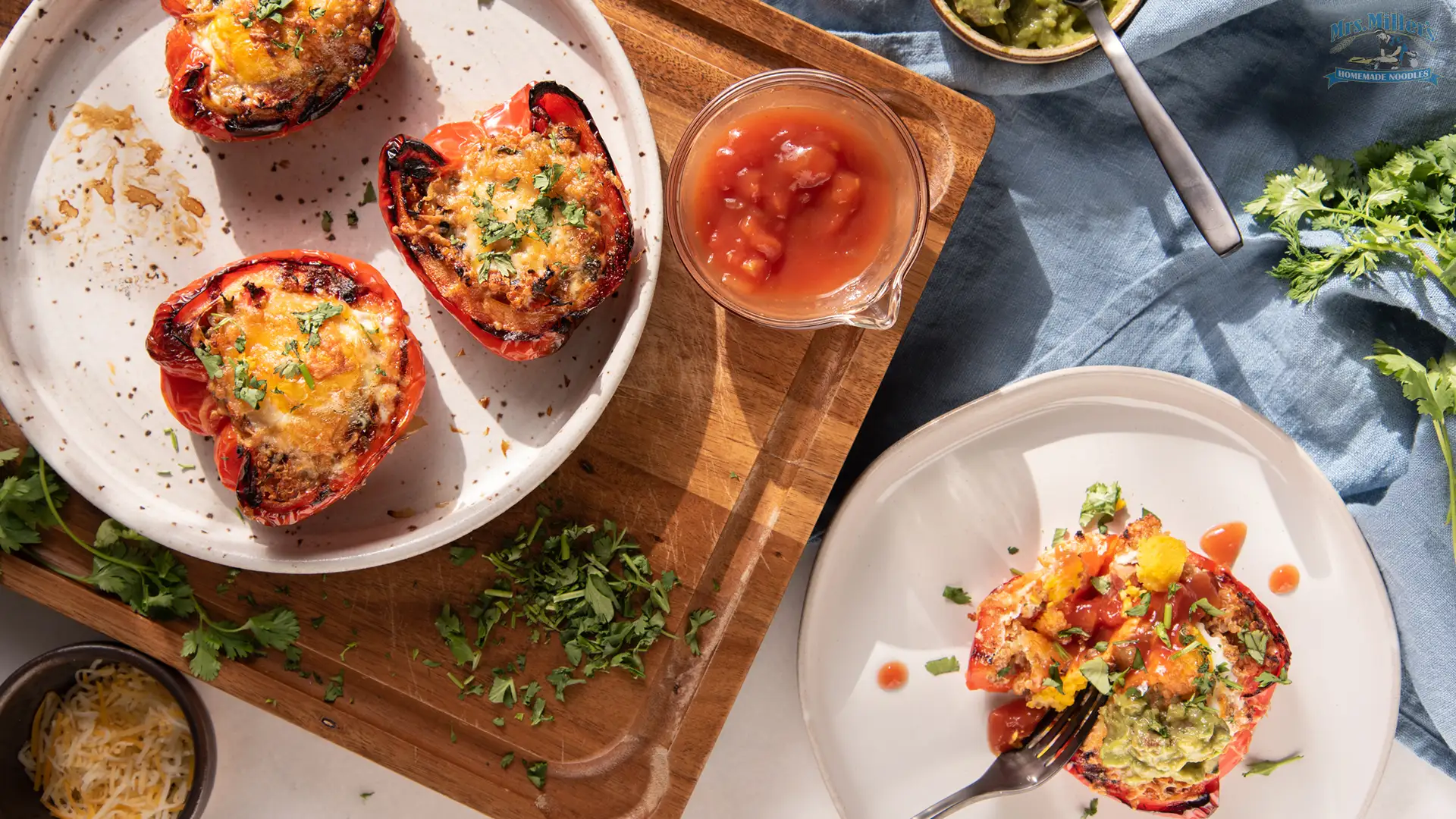 The sun is shining, the birds are singing, and the smell of people firing up their grills is in the air! This summer, ditch the burgers and hot dogs and try something a little different - Our Grilled Stuffed Peppers Recipe. Mrs. Miller's Mild Chunky Salsa makes these peppers taste amazing, and they're perfect for a summer BBQ. Plus, they're vegetarian friendly so they'll please everyone who's invited to the backyard BBQ.
Typically, Stuffed Peppers are made with rice, ground beef, and tomato sauce. Mrs. Miller's Mild Chunky Salsa is the perfect replacement for tomato sauce because it has a fresh and zesty flavor that really kicks up the flavor of the dish.
Why make these Grilled Stuffed Peppers?
Well, for one, they're a complete meal in one. In our version, you've got your protein from the quinoa and eggs, your veggies from the peppers themselves + a few extra stuffed inside, and Mrs. Miller's Mild Chunky Salsa ties it all together nicely.
Another reason is that they're easy to make ahead of time. Just mix everything together, stuff the peppers, and then pop them on the grill when you're ready to eat.
So, this summer, ditch the ordinary and try something new - Mrs. Miller's Mild Chunky Salsa Grilled Stuffed Peppers! Your taste buds will thank you. 🙂
Happy grilling!
Prep Time

15 min

Cook Time

30 min

Total Time

45 min
Ingredients
2 Red Bell Peppers, cored and halved
4 Eggs
3/4 Cup Cooked Quinoa
3/4 Cup Eggplant, chopped
1/4 Cup Cheddar, grated
1/2 Cup Mushrooms, chopped
1/2 Cup Tomatoes
, diced
2 Cloves Garlic, minced
1/2 tsp Paprika
1/2 tsp Dried Oregano
2 tbs Cilantro, chopped and divided
1 TBS Extra Virdin Olive Oil
Salt and Pepper to Taste
Method
1
Pre-heat grill on medium heat.
2
HEAT Extra Virgin Olive Oil in a large skillet on medium-high heat. Sauté Mushrooms, Garlic, Paprika, Oregano, Salt and Pepper until Mushrooms start to soften. Add Mrs. Miller's Mild Chinky Salsa and Tomatoes – sauté for about 5 minutes more.
3
In the meantime, coat Red Pepper halves in olive oil, and place face down on grill to get grill marks on the edges.
4
Remove Bell Peppers. Place on plate for stuffing.
5
Stir Quinoa and half of the Cilantro into cooled vegetable mixture. Spoon mixture evenly into Red Pepper halves – leave room for 1 Egg.
6
Arrange Bell Peppers on grill. Cover and Bake for 10 minutes or until Peppers are tender-crisp.
7
Crack 1 Egg into each Stuffed Pepper and sprinkle with Cheddar.
8
Grill for 10 to 12 minutes or until Peppers are tender and Egg Whites are set (or until desired doneness).
9
Sprinkle with remaining Cilantro.
Garnish with extra cheddar, scallions, salsa, or even guacamole and enjoy hot off the grill!
Share with friends