Chicken Cobb Salad Recipe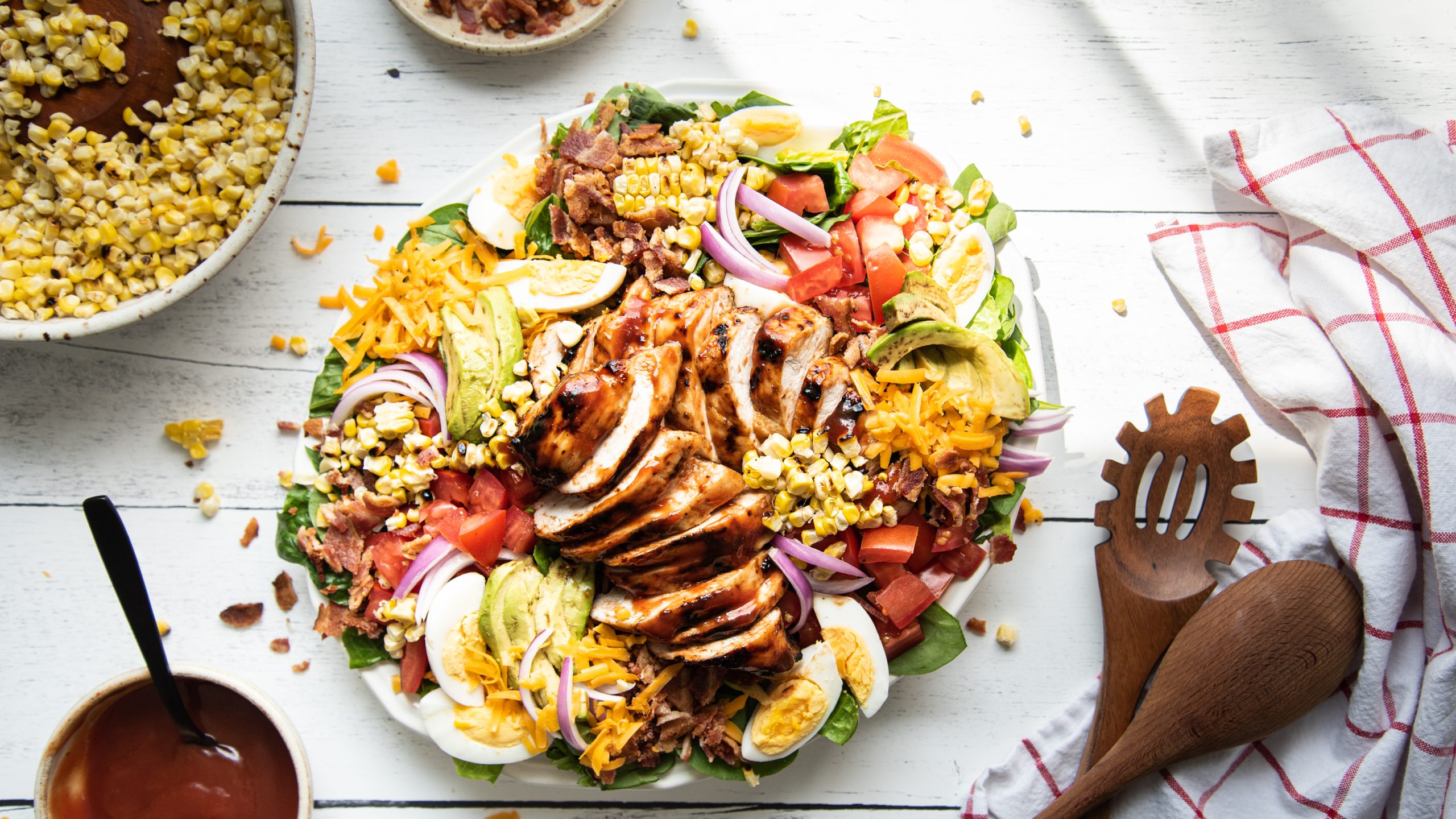 Welcome to the delicious world of family style Chicken Cobb Salad! This easy-to-make dish is sure to be a hit with your family and friends. With Mrs. Miller's Sweet Hickory BBQ Sauce, this salad is packed with flavor and texture. It's a great way to enjoy a meal together, with all the components of a Cobb Salad including crispy bacon, hard-boiled eggs, tomatoes, and avocados. And of course, the star of the show: Mrs. Miller's Sweet Hickory BBQ Sauce, which adds a delicious smoky-sweet flavor to the chicken.
What makes a Cobb Salad a Cobb Salad?
It's a combination of ingredients that make it so special: crisp lettuce, tomatoes, bacon, avocado, hard-boiled eggs, and the star ingredient – Chicken grilled and basted with Mrs. Miller's Sweet Hickory BBQ Sauce. Combined together, these flavors create a meal that is both light and filling.
For an extra kick of flavor, try adding some diced onion or green bell peppers to the mix. You can also use your favorite cheese (we use sharp cheddar), chopped nuts, and diced celery to add even more flavor.
Serving this salad as a family-style meal makes it easy to put together quickly and be ready to enjoy in no time. The combination of flavors will make everyone's taste buds happy! So go ahead and dig into this delicious family style Chicken Cobb Salad with the ones you love.
Oh, and for the perfect finishing touch, don't forget to add a little extra Mrs. Miller's Sweet Hickory BBQ Sauce! Enjoy!
Prep Time

20 min

Cook Time

12 min

Total Time

32 min
Ingredients
Ingredients
2 Chicken Breasts, grilled
1 Head Romaine Lettuce, chopped
1 Bag Baby Spinach
8 Slices Bacon, cooked crispy & crumbled
1 1/2 Cups Sharp Cheddar, grated
6 Hard Boiled Eggs, quartered
2 Avocados, diced
3 Roma Tomatoes, diced
1/2 Red Onion, diced
2 Ears Corn on the Cob, grilled and kernels removed
Salt and Fresh Cracked Pepper to taste
Fresh Cracked Pepper to taste
Method
1
Heat grill to medium. Baste Chicken Breasts with Mrs. Miller's Sweet Hickory Sauce and grill until the inside temp of each breast is 165º F.
2
Chop Romaine Lettuce into bite-sized pieces and toss with Baby Spinach. Spread on a large platter to create a family-style meal.
3
Place remaining salad ingredients in small piles all over the top of the lettuce leaving space in the middle for the sliced Chicken Breast.
4
Be creative – make it pretty & enjoy!
Share with friends