Broccoli Cheese Noodle Soup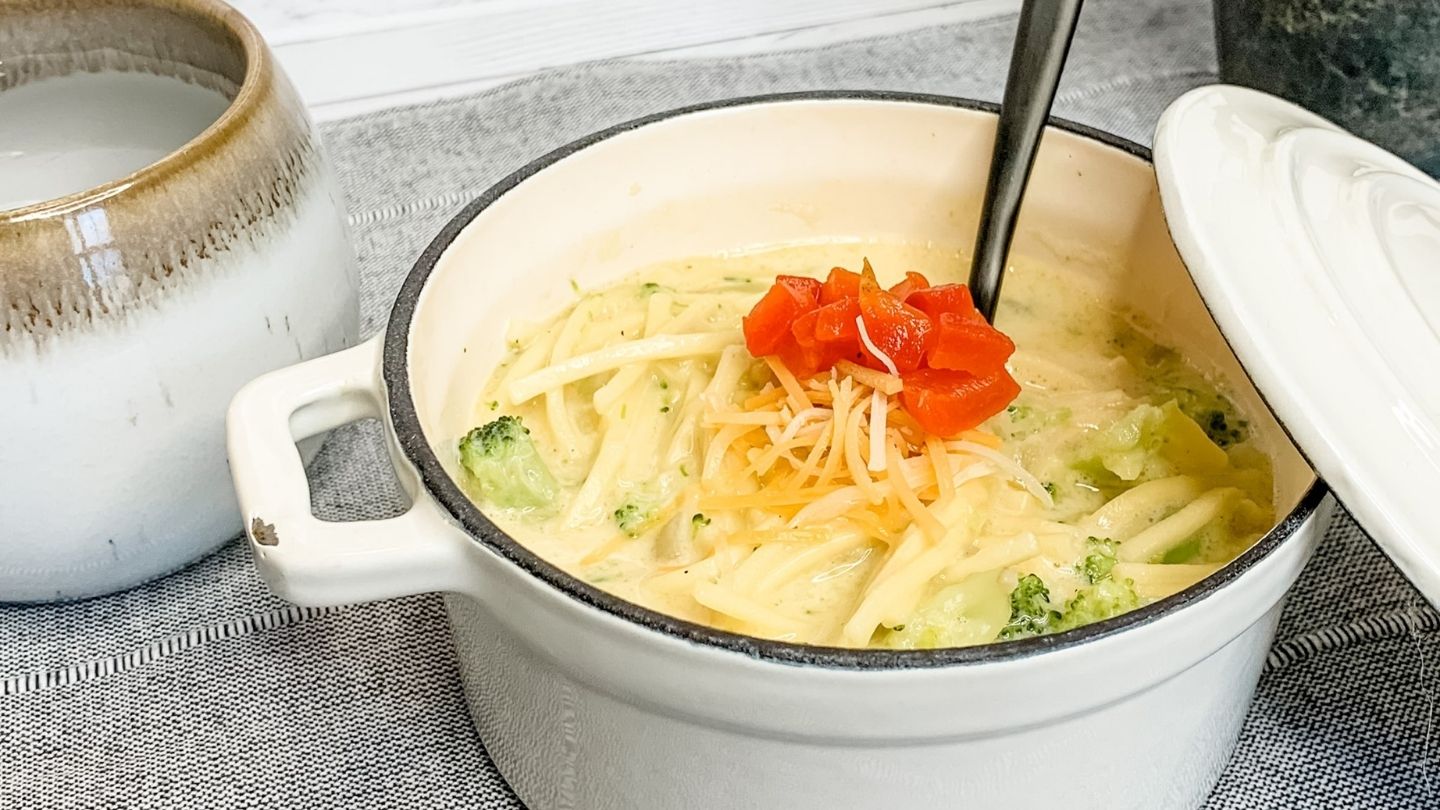 This Broccoli Cheese Noodle Soup is such an easy small batch soup recipe that your whole family is sure to enjoy. And it's hearty enough for a complete meal! Warm up from the cold weather with this family favorite.
Prep Time

10 min

Cook Time

20 min

Total Time

30 min
Ingredients:
1/2 Package of Mrs. Miller's Fine Egg Noodles
1 12oz Bag of Frozen Broccoli Florets
1 Small Spanish Onion, diced
1 Heaping TBS Mrs. Miller's Chicken Soup Base
2 Tablespoon Butter
1 LB Melting Cheese, such as Velveeta 2%
3 Cups Water
3 Cups Milk
Salt, Pepper, Garlic Salt to taste
Directions
1
In a medium pot, sauté onions in butter over medium heat along with the Chicken Soup Base.
2
Add the water and bring to a boil. Once boiling, add Mrs. Miller's Fine Noodles. Boil for 3-4 minutes.
3
Add the Garlic Salt, if using, Salt & Pepper and the Broccoli to the pot. Boil for 4 minutes longer.
4
Reduce heat, and add Melting Cheese first, then Milk so the Milk doesn't curdle.
5
Simmer on low until all of the Cheese is melted. Give it a taste and add more Salt, Pepper, and Garlic Salt if needed.
6
Serve hot with your favorite garnishes!
7
Garnish Suggestions:
Shredded Cheddar Cheese
Diced Roasted Red Peppers
Garlic Butter Croutons
Crispy Bacon
Tortilla Chips
This recipe feeds about 4 so double up on the water and milk (and cheese – yum!) if you have a larger family.
Share with friends