Broccoli Cheese Noodle Soup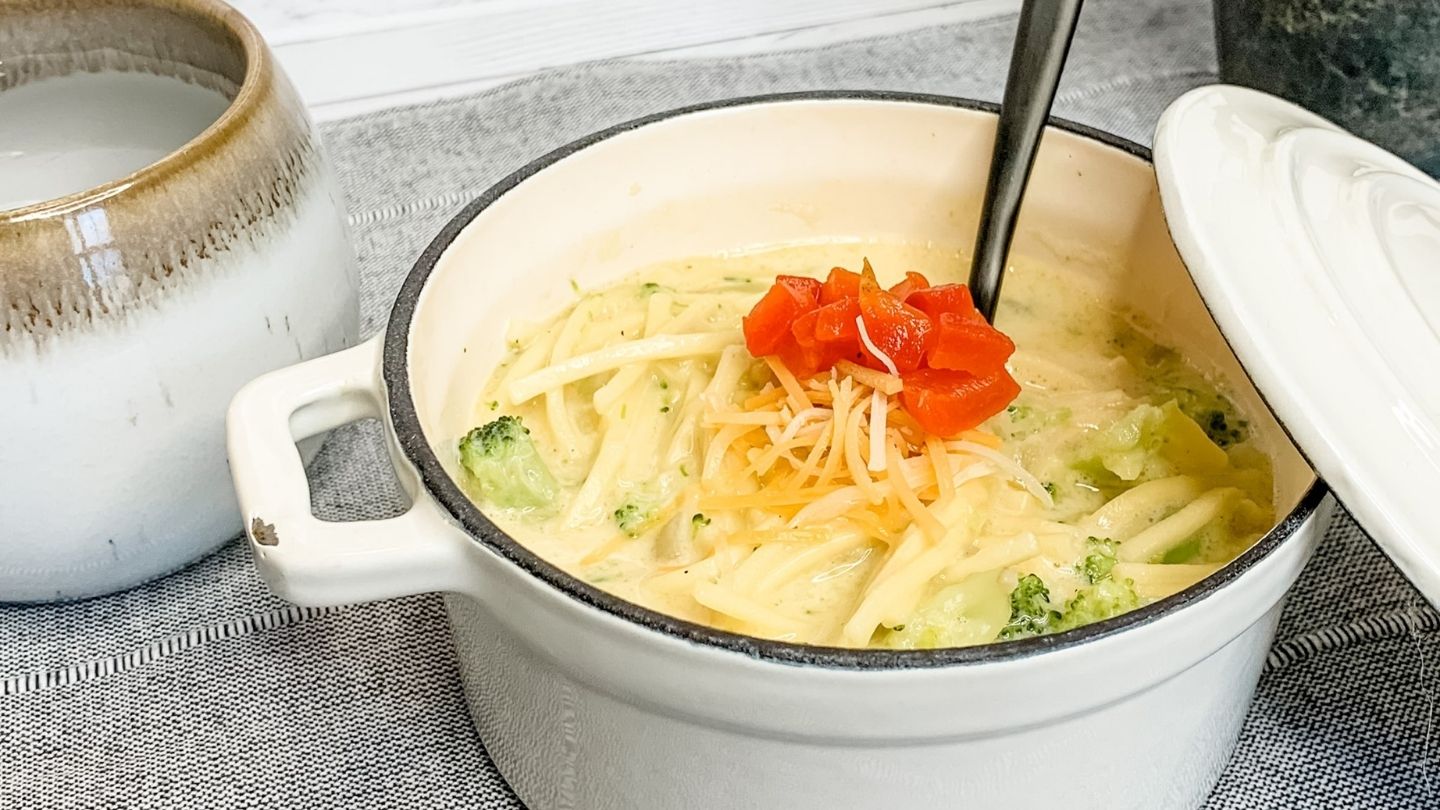 Soup is always a good idea. It's comfort food at its finest, and it's perfect for those cold winter days. But broccoli cheese soup? That's a whole different level of deliciousness. This broccoli cheese noodle soup made with Mrs. Miller's Fine Egg Noodles is creamy, cheesy, and packed with flavor. Plus, it's super easy to make. So if you're looking for a cozy meal that will please the whole family, give this recipe a try.
Do you add egg noodles to your broccoli soup? If not, you should, and here's why. Specifically, Amish egg noodles add a great bite and texture plus it makes broccoli cheese noodle soup hearty to create a complete meal. And the cheese creates a creamy sauce that coats the noodles because it's always more fun to have something to slurp up in your bowl!
Frozen or fresh broccoli? That's totally up to you. Frozen broccoli will cook faster in the broth, so if you're short on time that would be a great option. If you have fresh broccoli on hand, simply chop it into small pieces and add it to your pot along with the other ingredients.
Finally, once your soup is cooked through and creamy just top it off with your favorite garnishes like extra cheese, bacon, and a little bit of freshly cracked pepper. Serve it hot in a warm bowl and get ready for some serious comfort food! Enjoy!
Prep Time

10 min

Cook Time

20 min

Total Time

30 min
Ingredients:
1/2 Package of Mrs. Miller's Fine Egg Noodles
1 12oz Bag of Frozen Broccoli Florets
1 Small Spanish Onion, diced
1 Heaping TBS Mrs. Miller's Chicken Soup Base
2 Tablespoon Butter
1 LB Melting Cheese, such as Velveeta 2%
3 Cups Water
3 Cups Milk
Salt, Pepper, Garlic Salt to taste
Directions
1
In a medium pot, sauté onions in butter over medium heat along with the Chicken Soup Base.
2
Add the water and bring to a boil. Once boiling, add Mrs. Miller's Fine Noodles. Boil for 3-4 minutes.
3
Add the Garlic Salt, if using, Salt & Pepper and the Broccoli to the pot. Boil for 4 minutes longer.
4
Reduce heat, and add Melting Cheese first, then Milk so the Milk doesn't curdle.
5
Simmer on low until all of the Cheese is melted. Give it a taste and add more Salt, Pepper, and Garlic Salt if needed.
6
Serve hot with your favorite garnishes!
7
Garnish Suggestions:
Shredded Cheddar Cheese
Diced Roasted Red Peppers
Garlic Butter Croutons
Crispy Bacon
Tortilla Chips
This recipe feeds about 4 so double up on the water and milk (and cheese – yum!) if you have a larger family.
Share with friends