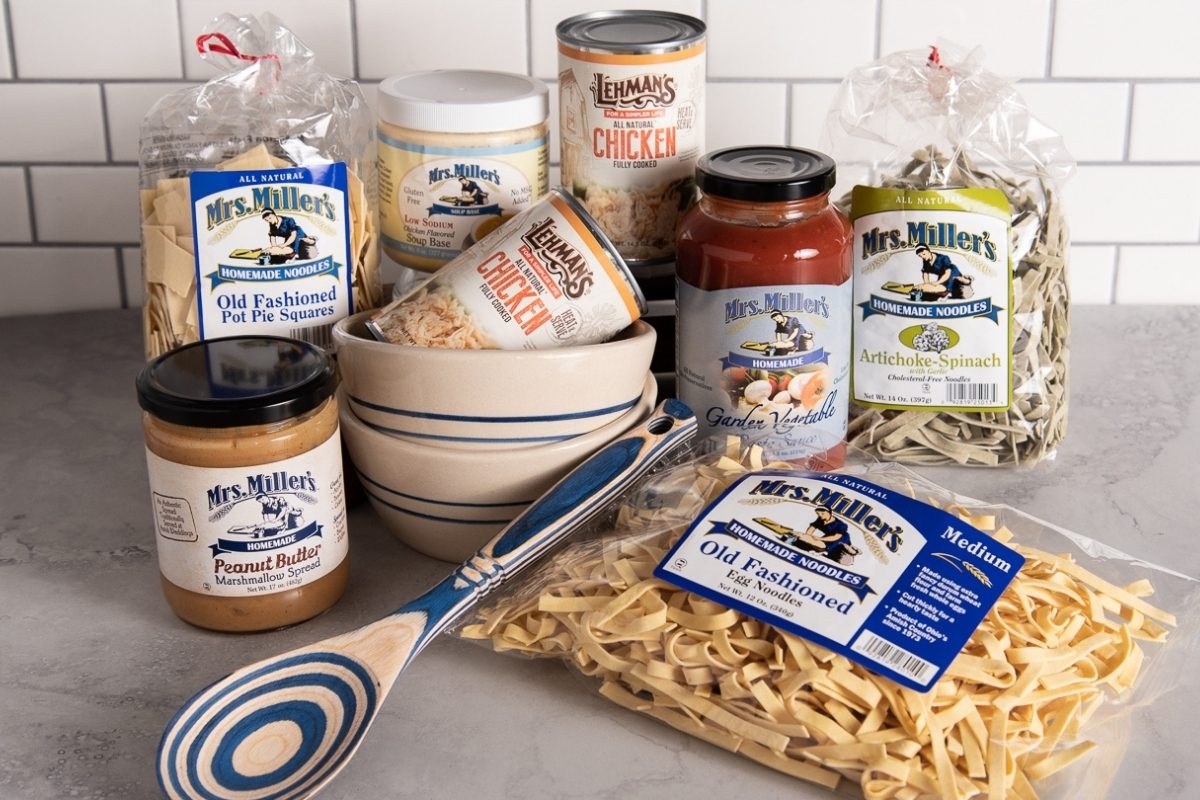 Noodle Caboodle Giveaway for National Noodle Month
National Noodle Month is coming to a close, but not before we have an epic giveaway! Mrs. Miller's Homemade Noodles and Lehman's have teamed up to give one lucky winner a Noodle Caboodle. What's a Noodle Caboodle? It's a package delivered to your door every month for the next year, filled with delicious noodles from Mrs. Miller's and awesome kitchen essentials from Lehman's. Enter now on Facebook or Instagram for your chance to win!
When did National Noodle Month start? Mrs. Miller's has been celebrating National Noodle Month for years, but it wasn't until the National Pasta Association officially recognized March as National Noodle Month that we started plans on creating an epic giveaway. Pasta origin is varied and disputed, with China and Italy both claiming to be the birthplace of noodles. Mrs. Miller's Homemade Noodles are made right here in the USA, so we like to think that National Noodle Month is a celebration of all noodles, no matter where they come from!
Wondering why we are partnering with Lehman's on this amazing giveaway? Lehman's located in Kidron in Ohio's Amish Country is a family-run business that has been providing Mrs. Miller's Homemade Noodles with kitchen essentials since the early days of Mrs. Miller's noodle-making journey. Over the years, Mrs. Miller and Lehman's have built a strong relationship based on quality products and a shared commitment to tradition and simplicity.
We are excited to continue the tradition of celebrating all things noodles, simple ingredients, and simple living. Thanks for joining us and don't forget to head to our social media channels to enter the giveaway!
What's a Noodle Caboodle?
Well, that's when you get awesome things every month from Mrs. Miller's Homemade Noodles or Lehman's every month for an ENTIRE YEAR starting out with our March Prize:
2 Blue Heritage Salad Bowls + a Pakkawood Blue Serving Spoon
Ingredients to make Mrs. Miller's Chicken Spring Chicken Salad recipe
Deluxe Sampler including Mrs. Miller's Noodles, Sauces, Soup Base, and Mustard
To get in on the action:
Follow US @mrsmillers1973 & @lehmanshardware on Instagram and Facebook for double entries
Like the posts
Tag 3 friends you'd love to share our delicious Spring Chicken Salad with
Post the giveaway in your Stories for a bonus entry
The winner will be announced Thursday, March 31st.
PLEASE NOTE:
This is a multiplatform giveaway.
You can enter on both Facebook and Instagram.
Just find this post and follow the rules!
We will choose ONE winner between the two platforms.
Goooood Luck!