Lemon Pasta Salad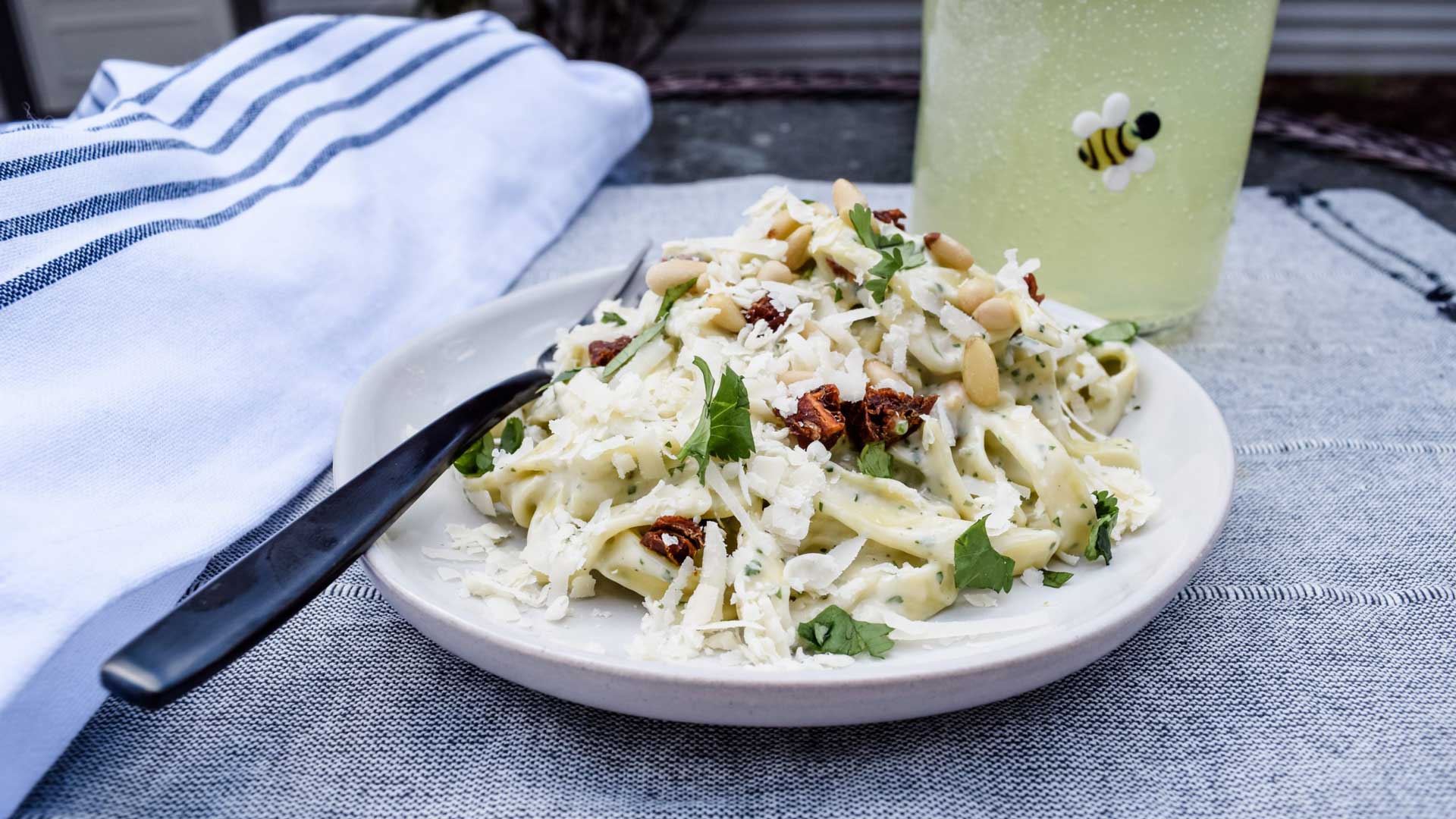 Serve this cold lemon pasta salad as a wonderfully refreshing side dish at Easter, or any spring and summer festivity. Be sure to add your savory garnishes to the top before presenting for a real "WOW" factor!
Prep Time

15 min

Cook Time

25 min

Total Time

40 min
Ingredients:
For the Salad:
1/4 C Sundried Tomatoes + some for garnish, chopped
1/4 C Pine Nuts + some for garnish, toasted
1/4 C Parmesan Cheddar + some for garnish, shredded
1 TBS Cilantro for garnish
Salt & Fresh Cracked Pepper to taste
For the Dressing:
2 C Light Mayonnaise
1/2 C Fresh Squeezed Lemon Juice
1 TBS Lemon Zest
3 TBS Agave Nectar
3 Cloves Garlic, rough chopped
1/2 C Cilantro
1/2 C Parmesan Cheddar Cheese, shredded
1/4 C EVOO
Salt and Fresh Cracked Pepper to taste
Directions
1
Toss all Dressing ingredients, except the EVOO, into a food processor. Pulse to combine and chop. Then, while running, drizzle the EVOO in until desired consistency. We like a Ranch Dressing style consistency. Store in fridge.
2
Prepare Mrs. Miller's Lemon Pepper Noodles according to package instructions. Drain completely and rinse under cold water.
3
Place cold Noodles, Sundried Tomatoes, Pine Nuts, and most of the Cheese in a big bowl. Drizzle in the Dressing and toss to combine. Let cool at least 1/2 hour.
You can use store-bought mashed potatoes or make your own. It works well if they are blended smooth and creamy. If you are making your own, be sure to peel the potatoes so the skins don't clog up the icing bag.
Share with friends